Once the snow melts from winter and we get into the spring of the year many homeowners realize they have home improvement projects that need to be done. Whether it's the roof of the home needing repair or replacement or installing new replacement windows in your home, having a home improvement contractor in Downriver Michigan complete your project is a must. Here are five signs you need to hire a home improvement contractor for your project.
5 Signs You Need a Home Improvement Contractor in Downriver Michigan
Sometimes during the winter season, we might notice problems but don't consider fixing them until warmer weather. This is especially true for exterior projects such as the siding on your home. However, sometimes putting off a project can cause more damage. And they need to be taken care of right away. Here are some signs that you should hire a home improvement contractor to repair your home: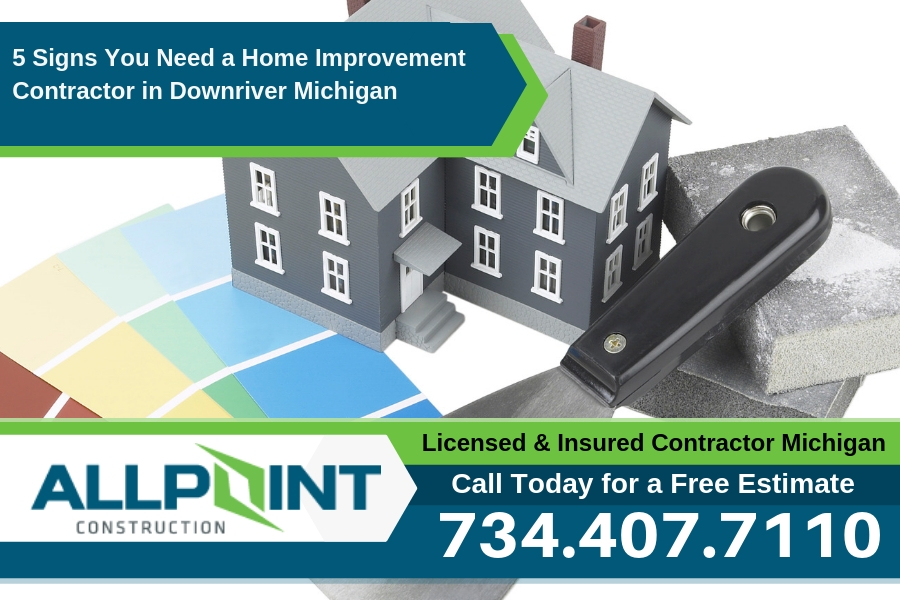 Flooring
The flooring in your home can take a beating during winter. From snow and ice being constantly brought inside on shoes and boots to the normal average wear and tear of everyday life. The flooring on your home can sometimes get drab and dull looking after some time. Having a qualified flooring installer refinish or replace your floor can give it that new look and feel again. There are many flooring choices available today such as luxury vinyl tile flooring that looks amazing and is inexpensive to install.
Kitchen and Bath Remodel
Having an updated kitchen or bathroom can feel like an entirely new home. Updating a kitchen to be more functional with new appliances can truly make an amazing home improvement project even better. If it's been a while since you updated your kitchen or bathroom consider getting a kitchen or bathroom remodel done in your home. Both the kitchen and a bathroom remodel projects hold much more value than any other room remodel in your home.
Siding
Is the siding on your home performing as it should and looking great? Many times small problems occur in the siding such as cracks which can cause all sorts of damage to the walls of the home. This includes water damage from water getting behind the siding and over time if the water damage remains it can also cause mold to grow behind the siding which can be unhealthy. If you are siding is older than 15 years old and showing signs of or breaking in areas it may be time for a replacement.
Roofing
Protecting your home and keeping water from entering the home is the job of the roof. If there is a problem on the roof it puts everything in your home in jeopardy of water damage. Making sure your roof is in good shape is crucial to maintaining the interior of your home. if you notice a roof leak or other problems on your roof it's imperative to get a roofing contractor to inspect the roof as quickly as possible to determine if there is any damage or if roof repairs are needed.
Windows
One of the best home improvement projects you can do to your home is to replace older windows of your home with newer more energy efficient replacement windows. Replacement windows made today are much more energy efficient than those made just 20 years ago. If your home has windows are over 15 years old be sure to consider getting new replacement windows for your home. Replacement windows are one of the best Home Improvement projects to do because of the high-value they add to the home plus the energy savings that you'll enjoy year after year.
Whenever there is a problem when your home be sure to always use a qualified and licensed home improvement contractor in Downriver Michigan. One of the best home Improvement contractors in the area is All Point Construction. All Point Construction offers roofing, siding, windows,  and more. Plus, they have free estimates so you'll know exactly what the project will cost before you begin. Be sure to call All Point Construction today at 734-407-7110 to discuss your home improvement project. You can also schedule a roof inspection or other home inspection to determine if there are any problems you need to deal with.