It seems like more and more homes built today don't have a porch on the home. And if there is a porch on the home it's usually very small and only a place where you can stand while unlocking the door to get into the home. While it's great to have this cover over you, having a large enough porch that allows you to enjoy the outside a bit is a huge advantage for many home owners. During times of the year when it's not too hot or cold, hanging out on the porch of your home is relaxing and gives you a chance to breath in some fresh air. We've included 5 tips in this article to help you make the most of your home's porch in Downriver Michigan and upgrades that can not only add value to your home but also your experience on the porch.
5 Tips to Make the Most of Your Porch in Downriver Michigan
Having a porch is a great way to enjoy the outside. However, when it comes to the porch on your home, you may not have the space available to really enjoy it. For some homeowners, the solution to this problem is having a porch or deck on the back of the home. This can not only give you the extra room that you may require but it can also add some privacy to your porch as well. This is especially true if you have a privacy fence which encloses your back yard. The following tips can help to make the most of your porch whether it's on the front of the home or the rear. However, some of the aesthetics will have more of an impact if they are done on the front of the home.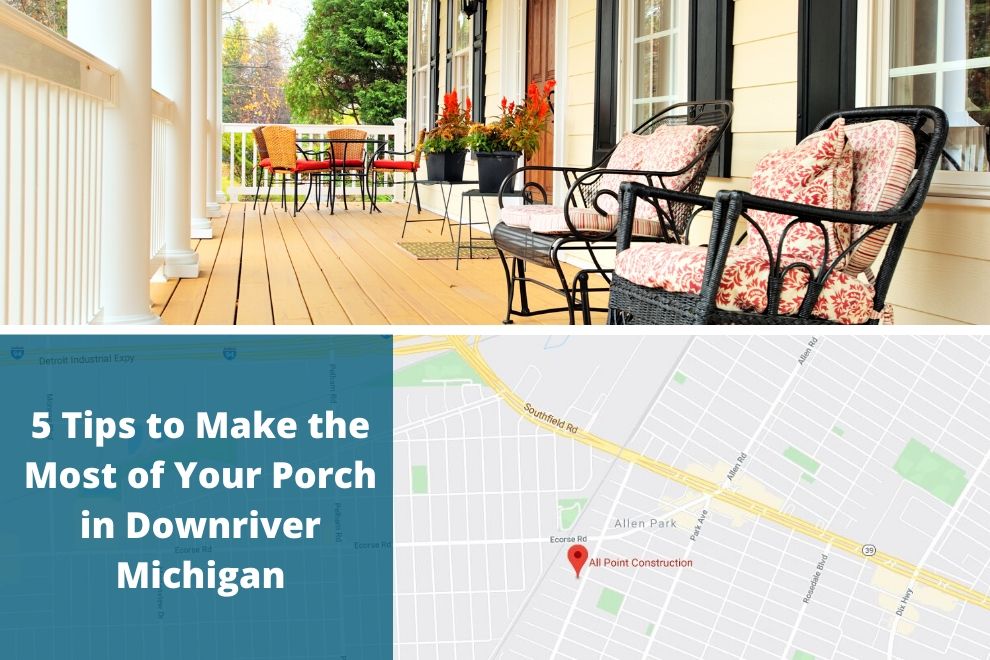 Update the Rails or Pickets
One area of the porch that can usually need an update is the railings or pickets of the porch. Some smaller porches on homes that are slab built or close to the ground may not have rails at all. Many times the rails and pickets are wooden and require lots of maintenance over the years including sealing and painting. And over time they start to look a bit drab especially if it's been a few years since they have been painted. The solution for this is to use vinyl railings and pickets. You won't need to worry about painting or any of those maintenance requirements that wood has. And if they get dirty or dingy, a simple wash can make them look new again. Updating the railing on your home's porch in Downriver Michigan is a great way to reduce the maintenance requirements of your porch and make it look great as well.
Refinish or Upgrade the Decking
Another area that can always be updated is the decking of the porch. The two main types of decking used in Downriver Michigan is concrete and wood. While both of these materials can last a long time, the appearance may be a bit less than desired. There are many options available today which can make your porch decking look great and reduce the overall maintenance requirements as well.
Add Furniture
If there is space on your porch or deck consider adding some of the latest furniture available. Relaxing on the porch and sharing a drink with friends is great if you have enough seats and spots. Consider adding exterior furniture which can withstand the weather even if your home's porch is covered.
Update the Masonry Finish
For home's with a porch that has masonry work, you can consider getting it upgraded to add stucco or another material. Exposed brick looks great but in some cases, it may be better to cover that brick or masonry with another material. Talking with a qualified contractor can certainly help make this decision easier.
Have a New Porch Installed
If you currently don't have a porch or you want to increase it's size it's best to talk with a licensed contractor in Downriver Michigan such as All Point Construction. They can remodel your current porch making updates and upgrades to give you the best look possible. And if you currently don't have a porch on your home they are experts at additions and large home remodel projects. Be sure to call them today to learn more and to get a free estimate at 734-407-7110.