Does your home have a large window in front that tends to be the focal point of the home? Many homes have a large bay or bow window located in the front of the home which almost always draws the eyes of anyone who looks at it. Upgrading this window can have a huge impact on curb appeal for your home as well as make your home more energy efficient. We'll take a closer look at bay and bow windows and explain the difference in them in this post.
Bow and Bay Windows in Downriver Michigan: Which is Better for Your Home
When you want to upgrade the windows in your home it's always best to use a fully qualified contractor in Downriver Michigan to have the project done. Improper installation of either a bow or bay window in your home can be bad for energy efficiency as well has bringing your home's curb appeal down. Always use qualified contractors on home improvement projects such as replacing the windows in your home.
Window replacement can be a pretty overwhelming project when you first get started. What you need to know is that it doesn't have to be! It can be simple with a little research and advice from a trusted contractor. When considering how to replace your big bay windows, you may see that you actually have the choice between bay and bow windows. This could have you considering which may be better, but here, we've given you exactly what you need to know to weigh out the pros and cons of each type.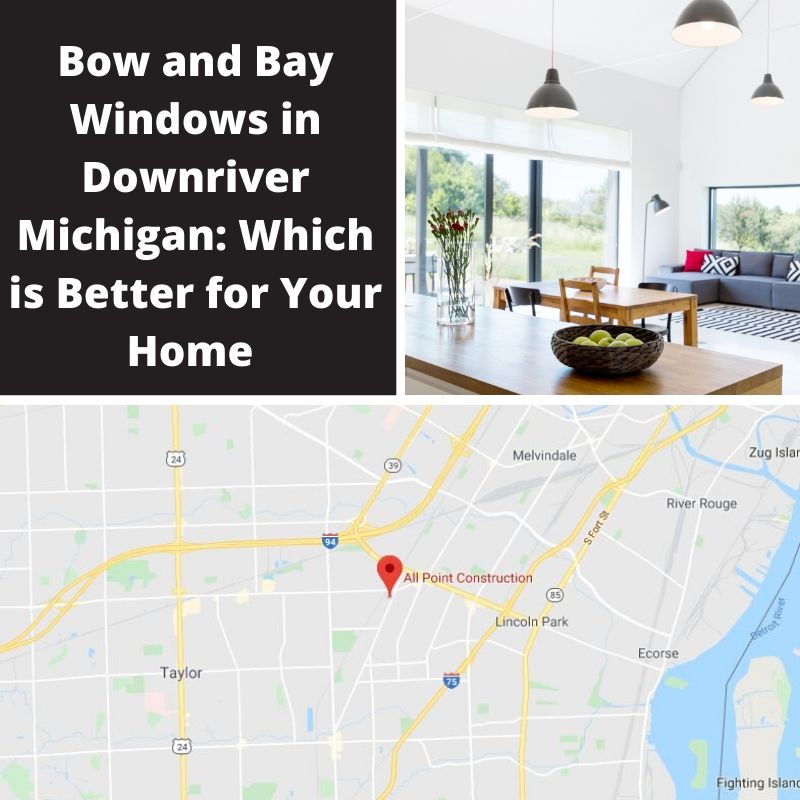 Bow and bay windows are very similar
In fact, many people couldn't tell you the differences between the two simply by looking at them. Both window styles are great for large rooms and showcasing a sense of class and sophistication while allowing in a ton of natural light. Bow and bay windows are designed to open rooms up and to expand the light and breathing room for your house. This lets your house live up to its beautiful potential.
Distinguishing between these styles can be done when you look at what is different between the two. Here's a few tips to determine which window is which.
Design – Bay windows are designed with one big picture window in the center with two smaller windows on each side. Bow windows are made to have a curved set of 4 to 5 windows, giving a rounded appearance from the outside. The flat surface of bay windows tends to be the typical choice for more modernly designed homes and the curved bow windows are more common in Victorian style homes.
Function – Bay windows tend to give you a little less space than bow since they are flat. Bow windows stick out due to the curvature, so you gain a little space and air with them. Bay windows work well in smaller or narrower spaces since they are 3 paneled. The extra curving and space provided by bow windows can allow you to use them around corners in your home that can offer a wonderful multi-angle view.
Installation and Cost – Due to the nature of the curved bow windows, they are typically made with a custom framed-in shell. Bay windows can be installed directly into the walls, so this isn't a problem for that style. Due to this, bow windows tend to cost more than bay windows. Two and a half times as much as a matter of fact. The labor and planning involved in bow windows can result in this added cost.
Both windows are simply beautiful additions and options for your home. While they both can have advantages, there's a few things to consider with each when it comes to replacing the windows of your home. Regardless of which window style you choose, you will have made a wise investment to your home and as a result will have increased the value of your house significantly. Be sure to talk to a licensed and trusted professional about your window options to save time, stress, and money!
Call All Point Construction today for pricing estimates and a free, in-home consultation on your window replacement project. They are fully licensed and insured and are also endorsed by Pella Windows and Doors. They even offer financing options. Call today at 734-407-7110 for more information.