Most homes only come with generic, run of the mill bathroom lighting fixtures. These typically produce just enough light but little to no aesthetic qualities. More than likely your bathroom lighting fixtures do not complement other features as much as you would like. Your bathroom should look and feel like a relaxing and serene place, but a single lighting fixture isn't going to give you that. And if you're considering a bathroom remodel in Downriver Michigan getting the right lighting is crucial to a good outcome.
Choosing the Right Lighting for Your Bathroom Remodel in Downriver Michigan
A single fixture won't shine light everywhere it needs to be, and it likely isn't the right kind of light either. Here are some ideas to enhance the lighting in your bathroom to create that oasis you wish for.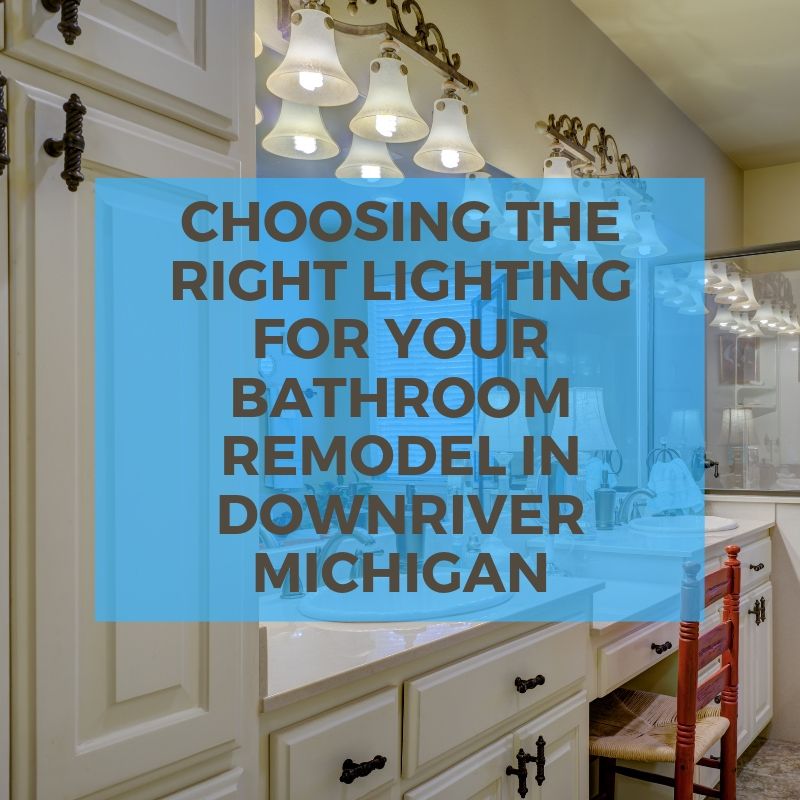 Ambient Lighting – This lighting is the foundation for the rest of the room. This is created by the main lighting fixture in the bathroom. Typically this is the lighting that is standardly installed in the home when it is built – unless you have a custom build. If there is already an existing fixture in your bathroom, you can change it! There is no reason to stick with what's there if you're renovating the room! You can change the lighting fixture to be stylish or for better light overall. It's all up to you!
Accent Lighting – Accent lighting can make your bathroom feel and look like a spa. Under the cabinet strip lighting creates a glow like none other. You can also focus on artwork with accent lighting to really create a sophisticated feel.
Mirror Task Lighting – This is likely the last thing you will think of when it comes to lighting your bathroom. Your mirrors are what you look into to get ready for the day. If you only use overhead lighting, you'll likely fight shadows the entire time you're getting ready.
Installing lighting next to or around your mirrors will give you that straight on lighting necessary to truly see your face properly.
Shower Task Lighting – If you don't have separate lighting for your shower, you may want to consider it! Ever thought about how dark it can be in the shower compared to the rest of your bathroom? Recessed lighting could help with that. If you have a glass door shower this may not be as big of an issue, but it is still something you could consider to up the overall lighting of the bathroom.
Types of Bulbs – You may find that you need to look at several different types of bulbs for your bathroom lighting to find out what you need to choose. White light is the bright light that allows you to see colors and skin tones most accurately. Halogen bulbs can be expensive, but will last a lot longer than standard bulbs. To reduce shadows and add ambiance, you can choose to go with frosted or opaque bulbs.
LED bulbs are a great choice in bathrooms because they are durable and energy saving. LED bulbs also aren't affected by humidity and are less heat emitting than standard bulbs. You'll want to choose these in cool or bright white to get that daylight look you wish for.
Dimmers and Skylights – While you may not initially consider it, a dimming feature for your bathroom is an excellent way to be able to control the mood of the bathroom. A dimmer can allow for the right lighting in the early morning hours to star to the day then again later at night to create a relaxing retreat from a long day. Let's not forget the middle of the night stumbles into the bathroom where just a little light could prevent some stubbed toes.
A skylight would provide natural daylight during the day, reducing the need for using the actual lights in your bathroom during those times. This can also help flood the room with light giving you the brightness you crave while maintaining your privacy.
Before you remodel your bathroom be sure to talk with a qualified home improvement contractor in Downriver Michigan such as All Point Construction. They offer free quotes and can help with your project to ensure you get the most out of it! Call today at 734-407-7110.