Relying on a stranger can be scary, especially when your home is in trouble. Roofs can quickly become much worse, no matter how bad the initial damage is, making it crucial you fix it as fast as possible. To help you feel secure in your investment and the work that the roofer in Ann Arbor Michigan provides, it is important to always have a roof contract which outlines everything about the roofing project. Putting everything down in writing and having both parties agree to it takes a lot of the risk out. But to guarantee that there is nothing left to chance, it is important to make sure that you include the necessities.
Crucial Things Every Roofing Contract in Ann Arbor Michigan Should Include
We've listed some of the most important things that a roof contract should have included below: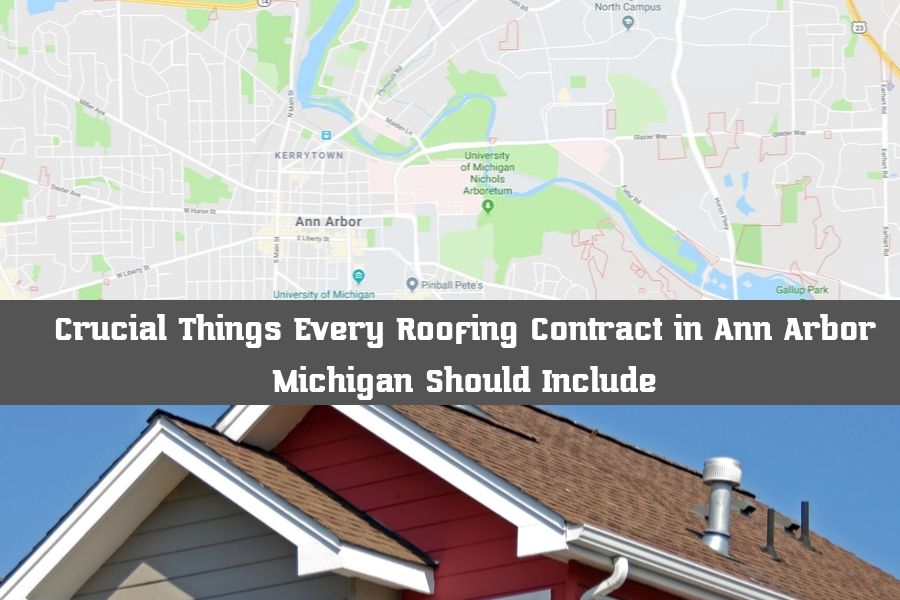 Description Of The Job
You should always include a very in depth description of the job you want to have done. This is not simply saying that the roofer will patch a hole or replace your roof. You need to include step by step descriptions of each part of the job the roofer needs to do. That means providing materials, removing items, installing items and any clean up necessary. The more details the better so nothing is left to interpretation.
List Of Materials
To guarantee that you are getting the correct materials you want for your roof, it is also important to include a materials list. This will list every item needed to be bought and used on your roof, including the colors, prices per unit and the amount of each unit you need. This allows you to verify that the materials are correct and see a detailed breakdown of the price for materials.
Timeframe
You don't want to leave the amount of time the job will take vague. What quickly means to one person can be completely different to the next. To make sure you are fully prepared for the work ahead, it is important to create a timeline for when the work will take place. This includes a start date, a completion date and any dates certain milestones should be completed by if it is a larger job. That will help prevent you from waiting months and months for a simple job to be done and keeps the roofer motivated to finish on schedule. There should also be a clause included in case of delays and unforeseen circumstances.
Payment Terms
You should never pay the entire amount for the work upfront. Instead, you should have a down payment and then include in the contract the dates in which the other payments will be made. You can set it up to be just a down payment and the final payment, or installments throughout. Dates and amounts should be clear so there is no disputing how much money is owed and how much will be paid each time. It may also include financing details if offered as well.

License And Insurance Information
You should never work with a roof contractor that isn't licensed or insured, especially a roofer. Licenses provide proof of legal qualifications, and insurance prevents you from having to cover the costs of any injuries on your property while working. They both should be verified as up to date before you draw up a contract, but you should also include a copy of the information in your contract. This way you have the information in case there are any problems.
Permits
Contractors need to get approval for work through permits before anything can begin. The permits will verify that everything is up to code and ready to go. A copy of all permits should be included for your reference.
Penalties And Termination Clause
In the event something goes wrong, you want to be prepared. This means including penalties for both parties if work or payment is stopped, not fully fulfilled or unacceptable. Having these penalties in place makes it easier to deal with problems if they arise and avoid long legal battles.
Signatures
The contract is not complete unless both parties sign it. If any changes are made to the contract they will need to be added in and initialed by both parties. You should also each have your own up to date copy for reference.
In any case be sure to use a fully licensed roofer in Ann Arbor Michigan such as A2 Roofing. Call A2 Roofing today at 734-548-9915 and discuss your roofing project.