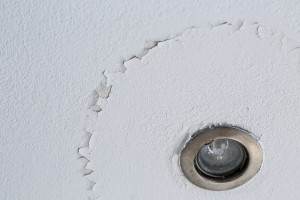 As a homeowner, one of the last things you want to to run across as you walk through your home is water damage. From appliances that overflow to leaking/bursting pipes to roofing issues, even the smallest amount of water can lead to a lot of damage if unnoticed and untreated. Water damage in the home can easily lead to mold and mildew growth over time as well as the deterioration of the structure itself. Sudden water issues, on the other hand, can cause destruction of property and valuables. However, keeping an eye open for the warning signs of water damage can minimize the chances of a more serious issue.
One of the first warning signs of water damage is a musty smell. While your eyes may not be able to detect any issues right away, your nose should be able to. Musty odors are a definitely sign of mold and that means you need to find the source as quickly as possible. Mold not only damages your home and its value but can have serious effects on your health as well. Mold can be controlled by fixing leaks and controlling the humidity levels in the home, among other things.
Water can enter the home through a number of ways such as through walls, floors, windows, cracks and seams. Besides noticing dripping or standing water, there are other visual signs of water damage as well. Some of these include:
Water stains on the floor, walls, or ceiling

Signs of mold growth such as discoloration or fuzzy areas on walls

Floors that buckle, sag or show other signs of being warped and uneven

Peeling paint, as water will cause the paint to stop adhering to the walls or ceiling
If you've noticed signs of water damage in the Downriver area, contact the experts at Downriver Restoration. They handle all types of damage including water, mold, fire, and storm as well provide 24/7 emergency service. To get started with a free inspection and estimate, call 734-619-7610 or visit downriverrestoration.com.