Owning a home is all about planning for the long-term by building a strong foundation of services and maintenance today. You stock up on air filters because you know that you'll be changing them a few times a year for many years into the future. You probably have a plumber you call any time the pipes freeze, or a lawn care service you trust to know how to handle your prized flower beds. The same rule applies to your roofers, in fact, doubly so. Having a local roofing service you can trust is incredibly important because Michigan has such extreme roofing needs.
With storms that blow up from the south, in from the East, and down from the lakes on a regular basis, Plymouth, Michigan roofs can take a serious annual beating. Homeowners often need to call for inspections and minor repairs multiple times a year and, at the very least, take care of annual maintenance before the first heavy snows fall. And the last thing you want is to be caught up with a service that always seems to prioritize your home last or disappear after doing a shoddy job, a problem that is all too common in the 48170 area code.
What you need is a team of roofers who are so local that they know where you live the moment you mention your cross-streets, and for more reason than one. In fact, we're here to share eight profoundly important advantages to hiring local roofers who are based near your Plymouth MI home instead of the dozens of alternatives who are further out or have no local home-base at all.
Join us, won't you, in discovering why 48170 roofers should be the team held to your fridge on a magnet for emergencies and routine roofing needs alike.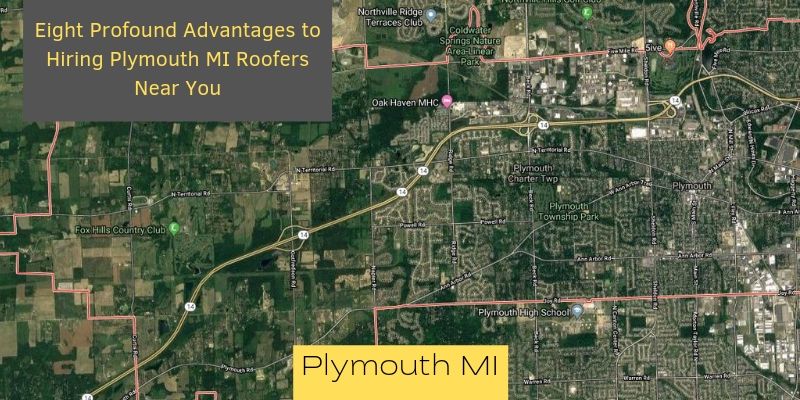 1) They Show Up in "Roofers Near Me" Searches
If you don't yet have a number for roofers on your fridge, the first thing you will notice when searching Google is that even Google wants you to prioritize roofers nearby. If you type in "roofers near me" and live in the Plymouth Michigan area, Google will do it's best to suggest roofers whose official business locations are right here in town.
Why? Because roofers who share your area code are roofers who know and care about your neighborhood. You're not just some peripheral contract opportunity, you are a neighbor and a friend.
2) They Understand the Unique Roofing Needs of Homes in Your Region
From temporary newcomer roofers to distant big-city roofers, anyone who's not from around here doesn't really know the kind of roofing services your Plymouth MI home needs annually.
When you work with roofers whose home-base is right down the street, you know they understand the unique roofing needs of Plymouth homes and neighborhoods. They know the type of roof you've got, how often and how heavy it snows. And when your roof has just been through a bad storm, so has theirs! So they know when you need service, why, and exactly the type of service you're likely to need.
3) A Scheduled Service is Only a Short Drive Away
One of the biggest advantages of hiring a roofer right in your 48170 area code is that their home-base, where the trucks deploy from, is only a short drive away. Scheduling with a distant big-city roofer often means you're waiting an hour or longer for service than you need to and you're competing for service with many thousands of other people who are closer and easier to reach.
With a Plymouth, Michigan roofing service, you know that in an emergency, they really can be at your door within fifteen minutes. And even routine roofing services are easier to schedule and your home is so much faster to reach as part of their daily route.
4) Inspections and Follow-Ups Take No Time to Plan
Whether you need a quick inspection after a storm to be sure your roof is still in good shape or would like a follow-up after serious repairs to make sure everything's set before winter, a roofer near you can quickly and easily pencil you in for a service. Even if they are booked solid, when you're only a few minutes down the road you may still get same-day or same-week service because the inspector happened to be in the area and it'll only take a few minutes to get you squared away.
5) You Know They're Not Pickup-Truck Roofers Chasing Storm Damage Victims
Pickup-Truck roofers are a problem in our region. Every time a bad storm blows through, there are always a few teams offering cut-rate roofing prices to patch up holes and replace damaged shingles. The problem is that these roofers not only use low-quality materials and under-trained teams, they also have zero accountability and disappear as fast as they appeared.
Don't be fooled by a residence or a P.O. box in the 48170 area code that appears and disappears off Google in a flash. Rely on local Plymouth roofing services that are family-owned and have been serving homes in the region for many dedicated years.
6) They Can Get Insider Deals from Local Roofing Shingle Suppliers
One of the great things about an established local roofing team is that they also have established relationships with local roofing suppliers. The manufacturers and retailers that sell roofing shingles, underlayment, and flashing often have bulk deals and additional warranties with savings that can be passed on to you. But only because your local roofers have built such a strong relationship with their regular suppliers that they are offered these opportunities first.
7) They Can Help You Plan for Your Future Roofing Needs
When you're working with roofers who have a deep local understanding of neighborhood roofs, so much that they know your roof type just by hearing your neighborhood, they can also help you plan for the future. Local Plymouth MI roofers know better than anyone when you will need an inspection, when to expect the next wave of storms, and can help you get on the packed schedule for service before the first snow.
8) They Value Your Satisfaction and Build a Relationship With the Community
Finally, you can count on established local Plymouth roofers to stand behind their work. They live and work in Plymouth. Their children go to school here. They have been serving Plymouth families for decades and intend to serve you for decades more. This is incentive enough to provide superb service in order to build a strong relationship with the community. Roofers near you are dedicated to making sure every homeowner is satisfied with their work so that you will call again and again, and so that your friends and neighbors will call to take care of all their local roofing needs.
If you need a roofing service near you in Plymouth Michigan, look no further than Home Pros Plymouth. We have been serving the region's roofing needs faithfully for over 20 years and plan to serve for another 20 years and more. We know the ins and outs of the seasons, the storms, and annual Plymouth home roofing maintenance like the backs of our gloved hands. Contact us today to schedule your next roofing inspection, repair, or reinstallation. Our team is eager to hear from you.