If you have thumbed through an interior design magazine or looked at a home décor blog, you will inevitably see a few pictures showing off the hottest new kitchens. But if you really want a new kitchen with a more modern feel, there are a few easy projects you can look into. Having a home improvement contractor in Downriver Michigan create an amazing kitchen based on some modern designs can help to improve your home in a variety of ways. From boosting the value of your home considerably to making the kitchen space more functional. Let's not forget making it more energy efficient as well. In any case, getting a kitchen remodel done in your home means you'll need to make some decisions about the design that can really make a difference later.
Four Ways To Get A More Modern Kitchen with a Kitchen Remodel in Downriver Michigan
Before starting any type of home improvement project it's always best to start with a budget in mind and then work from there. For some home improvement projects such as replacing doors or painting bedrooms, you can likely do the home improvement project yourself. However, for more complicated home remodels it's always best to get the help from a licensed home improvement contractor in Downriver Michigan. Kitchens and bathrooms both have specialized components which will require a professional to move, install, or replace. Attempting this type of home remodel yourself is very risky.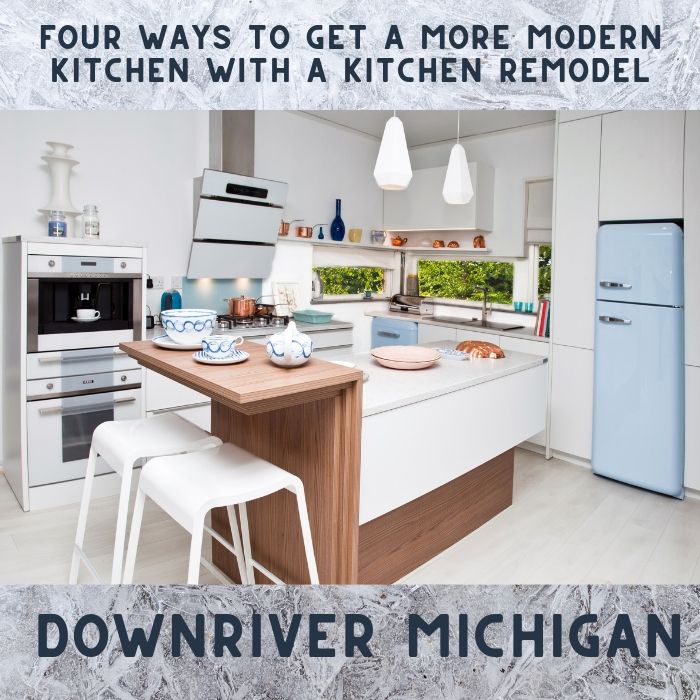 Optimize Your Layout
The layout of your home needs to be functional above all else. You need to be able to access your kitchen easily and move around it without having to worry about clutter or awkwardly placed features. A kitchen that focuses on an open center allows you to move freely while also making it look more modern. This means forgoing the island and focusing as much as possible on counter space to work on. If you are going to include an island in your kitchen you should try to keep it as simple as possible to prevent taking up too much space.
Install New, Low Maintenance Flooring
A huge part of modernizing your kitchen is taking advantage of the low maintenance materials that are now available. Older kitchens required a lot more maintenance to keep clean and running properly. But now it is all about having to do as little as possible so you can spend your time on more important things. One of the easiest ways to do this is by trading in older floors like linoleum and vinyl that can crack and require more effort to clean. Look for materials like stone, tile and wood for a more durable floor that requires much less upkeep.
Switch To More Efficient Appliances
Appliances are key when modernizing your kitchen. Old appliances not only tend to look more dated and out of place in a new kitchen, but have nowhere near the function of newer appliances. Newer features like smart technology allows you to make lists and reorder items all on your fridge. There are also the staples like ice machines, water dispenser and door design that comes with the newer fridges. Other appliances like stoves, microwaves and dishwashers are also constantly improving and working to make your life easier while still being functional. New appliances are also a great way to decrease your monthly energy costs because they are designed with greener technology. This allows you to save money and get a great return on your investment. Plus you get the added bonus of knowing that you are helping the environment along the way.
Utilize Voice Activation Technology
Modernizing your kitchen means including the modern technology that is now available into the design. A relatively simple, yet effective way to do this is by including voice commands in your kitchen. You can keep it simple with voice-activated lights, or go all out and turn your kitchen into a smart kitchen. This allows you to turn on appliances, set timers, get recipes and so much more, all without using your hands. This allows you to focus on your cooking and provide a more seamless way of working in the kitchen.
Talk With a Contractor About Your Ideas
When you have a good idea about how you want the kitchen to look then it's time to talk with a contractor and get an estimate. Be sure to call one of the top home improvement contractors in Downriver Michigan today by calling 734-407-7110. All Point Construction can give you the kitchen you've been dreaming of at a price you can afford.