As a responsible homeowner, you know that taking care of your roof is necessary. If a storm blows off shingles, if a tree branch falls, or if the roof gets old, you will need to call for anything from minor repairs to complete the reinstallation. Even if your budget doesn't currently have any room for the cost of hiring quality roofers to get the job done right.
Fortunately, you're not the first person to balance their homeowner responsibilities with their current fiscal limitation. In fact, with a wide variety of cost-saving and financing options, most people who are surprised by roofing needs can get the work taken care of without wrecking their finances. Here at Twelve Oaks Roofing, we believe in helping every person get the roofing they need with financing options that work. So today, we're here to share our best industry tips on how to save on good quality roofing, how to prepare for the eventual cost of roofing repairs, and how to finance a roofing repair or installation that your finances aren't ready for.
Finding Great Roofing Service on a Budget
There are some people who can handle home maintenance like money is no object. Most of us, though, are always looking for the smartest way to save without giving up on quality. So when it comes to roofing, of course, you're looking for both a great roofing team and to get the best price you can. And we're here to help. These are the top industry tips for reducing the cost of your roofing while still working with the best roofers in Oakland County.
Pick the Time of Year – Schedule Months Ahead
Did you know that roofing has a busy season? It makes sense if you think about it. Roofing is best done in the warmer months, which is also when most people are getting to their home maintenance as the weather warms up and we get more free time. But if you call for roofing in the middle of the busy season, you may wind up paying busy season or rush service prices.
The best way to get great roofing at a lower cost is to plan months ahead, if possible. Call your local roofers and talk about setting up a service whenever the weather is good and their costs are lowest. This is most likely going to be in the very early spring or the fall when demand is low but the weather is also a little trickier to schedule around.
If you're willing to wait a few months and to reschedule a day or two if the weather is poor, you can often get a lower price for roofing.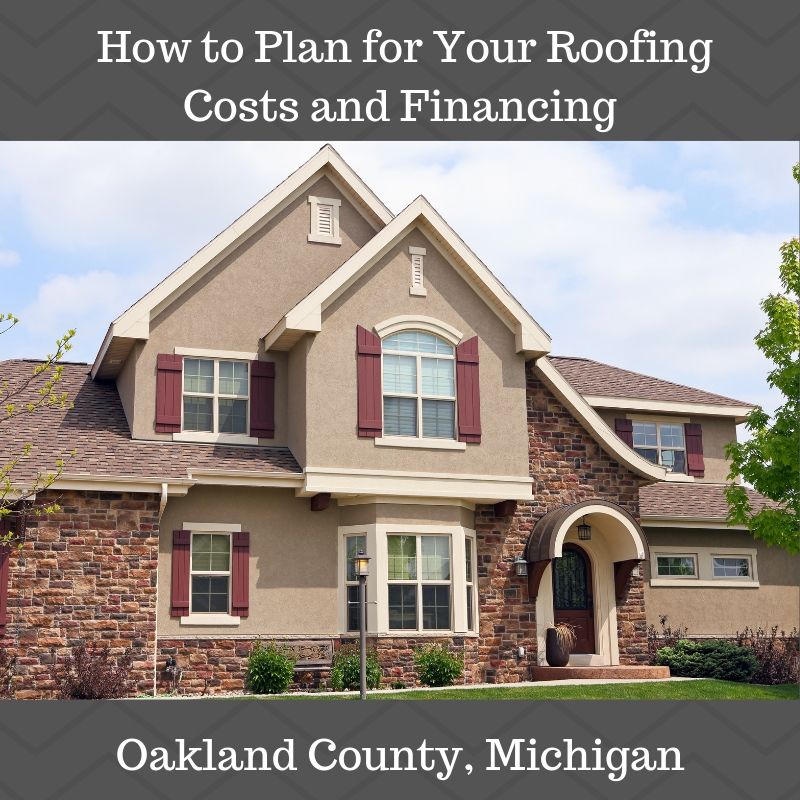 Go With Composite Asphalt Shingles
There are many types of roofing shingle but, fortunately for you, the most popular is also the most affordable. If you're willing to forego luxury shingles like tile or wood which require special skills and additional installation effort. Composite asphalt shingles are reliable with an all-purpose design. So this is a safe choice and probably the one you would have made already. Talk to your roofers about the most affordable quality shingles to choose from.
Next, don't work with the first roofers you find on Google. Pick out the best-looking top five in your area and call them up for a quote. This will work best if you know the square footage of your roof, the type of shingles you have, and the kind of work you need done. Each roofing company will give you a rough estimate and, likely, they will ask to come inspect the roof before giving you solid numbers to work with.
Naturally, from there you will want to compare the quotes, services, and roofing company reputations to make the smartest choice for your budget and your roof.
Ask for Ways to Receive a Discount
Finally, don't be shy about asking for opportunities to save money. Roofing companies are run by people just like you, who know the value of getting a good deal on great service. They may well be able to point you toward the right month to book for less, shingles that are at a manufacturer discount this year, or other options that can help you cut costs in ways that don't sacrifice value in your eyes.
By working with your chosen roofing company, you may be able to get a small or even significant discount on your upcoming roofing services.
Planning for Future Roofing Expenses
After getting a good deal on your Oakland County roofing services, the next priority should be preparing your finances to cover the costs. Roofing is something you only have to take care of once every few years, but the cost is among the highest for standard home maintenance responsibilities.
The average roof repair costs about $650, with a range between $200 and $4,000 per repair depending on the extent of the damage. Roof installation costs between $5,000 and $15,000 depending on the size of your roof, and the price can go higher for complex roofs, large roofs, or shingle requirements. And you can easily prepare to have that much or more ready when your next roofing repair or installation comes around.
Start a Home Maintenance Savings Account
As we mentioned earlier, the best way to pay for roofing is with savings put aside for the purpose. Roofing is a big cost, but it's not as big as most people think before their first set of quotes. By putting aside just a little each month, you can quickly have enough for a roofing repair and over time, you'll have enough for installation out of pocket without worrying about financing.
Talk to your bank about opening a purpose-based savings account with a good interest rate. And if you build up more than you need for roofing, use the funds for other home maintenance and improvements!
Update Your Home Insurance Policy
Home insurance will sometimes cover roof repairs if they are caused by storms, a house fire, theft, or vandalism. For your home here in Oakland County, you probably already know that storm coverage is by far the most important and if your insurance doesn't include it, it should. Check your homeowner's insurance policy to make sure that it covers storm damage and falling branches, as well as the other things like fire and vandalism. Then double-check the coverage numbers. If they don't add up (or if you're getting better insurance quotes from another provider) then it's time to update your insurance policy so that you will be covered come next storm season.
Count Down to Your Next Roof Installation
It also helps to know when the next big roofing expense is coming. Roof installations need to happen after 15-30 years, depending on the quality of your current roof and when it was installed. If you don't know when your next roofing installation needs to be, ask for a roofing inspection and get the estimate from your roofer.
Then set the date on your calendar. Know exactly how many years and months are left until it's time to reinstall the roof. During that time, save up and use the count-down as motivation to save efficiently. At the six-month mark, start getting quotes and make plans to be out of the home when roofing time finally comes around.
Plan Other Renovations At the Same TIme
One interesting money-saver tip we've learned from homeowners over the years is to plan other home renovations about the same time you're installing a new roof. If you're already peeling open your home and turning your life upside down for construction work, that is the perfect time to also get your roof reinstalled. Not to mention, a new roof is the perfect time to add new roof features like a skylight or even a home addition. Then you can also wrap up your roofing expenses into your home improvement loan or saved-up budget.
Finance Roofing When You're Not Prepared:
Lastly, there are financing options for anyone who doesn't have a dedicated maintenance savings account. This happens more often than you might think. Many homeowners don't have a few spare thousand dollars in the bank to cover roofing when unexpected (or even expected) roofing costs, there is an ecosystem of financing options available to make this easy and manageable.
If you find yourself in the same boat, wondering how to pay for your next roofing repair or full roof installation, any one of these options can help you make the right choice for your family finances.
Check Your Insurance Coverage
If you're dealing with major roofing repair from recent damage, there's a good chance your homeowner's insurance will be there to help. In fact, you may have planned for this already by getting homeowner's insurance that covers the damage from harsh Michigan storms and the falling tree branches that can result. Fire, theft, vandalism, and other forms of sudden unexpected damage may also be covered — in part or in full — by your homeowner's insurance policy. So check and see if it's time to make a claim.
All reputable roofing companies offer payment plans for customers who don't have the entire amount out-of-pocket. With a payment plan, you don't need to officially take out a loan if that doesn't work with your finances right now. The best thing about a payment plan is that you can work it out with your roofing company to reach an installment amount that won't break your budget and will still get you the roofing services you need right now.
If you have a new-ish credit card that is currently charging no interest, the smartest idea might be to put your roofing costs on the card. Using your credit cards responsibly can actually improve your credit score and can be used to transfer the act of paying an installment plan to instead paying off your credit card. Just be sure to tuck that card into the back of your wallet until you've paid down the roofing costs. Or, if it was a small repair, don't even sweat it.
Roofing Company Financing Options
Did you know that roofing companies offer financing options? In fact, a loan from your roofer can actually be more beneficial, less rigamarole, and even lower interest than your other loan options. They do this by partnering with banks to offer loans that are very specifically intended for homeowners who need roofing services. Through the roofing company, banks are usually willing to assume that a responsible homeowner seeking roofing will be good for the payments and therefore offer better terms for roofing-specific loans.
Title I Home Improvement Loan
The government offers a special kind of discounted loan just for home improvement called an FHA Title I loan. These loans are available to encourage homeowners to take the financing they need to improve their home's quality, equity, and to handle any lingering maintenance problems. Title I loans can be used for all sorts of home improvements but are one of your better non-roofing-specific options for financing a roof installation.
If you have built up equity in your home through mortgage payments, you can also take out a HELOC or Home Equity loan. These loans are based on the value of your home. Or, rather, the amount of your home that you currently own according to the mortgage terms.
Lastly, there is the final recourse of any homeowner with an oddball project to cover. If your credit score is good, a personal loan can easily cover the expenses of roof repair and most people can find a lender to provide enough for an entire roof installation. Personal loans tend to have high-interest rates but can buy you time to put together the financing for your roofing services after you get the work that your home needs.

—
An important part of homeowner roof responsibilities is planning for the bottom line. Every maintenance task comes with a cost, and roofing is not as expensive as most people think it is. With careful savings and preparation, many families can pay for roofing proudly out of pocket and, if you can't, there are plenty of financing options so you can choose what's best for your household.
Here at Twelve Oaks Roofing, we believe in helping Oakland County customers get the roofing they need, even if their finances aren't perfect in the moment. Because when your roof leaks or a tree branch falls through it, you need roofing now and to work out the details later. For more on how to handle your roofing financing ahead of time and today, contact us! Our team is ready to help you in any way we can.