Residential roof repair and replacement work is an exciting experience for most homeowners. Whether you're anxious about completing a repair or happy about new home renovations, having a team up on your rooftop is a fairly unique experience. Christmas Eve is the only other time people find themselves listening for footsteps on the roof, especially for residential homeowners.
Preparing for roof work is something that many people find themselves considering before your Dearborn, MI residential roof repair or replacement begins. If you're wondering what to do before your roofers arrive, there are a few things that will make the day go faster and smoother once we get started. As roofers, we appreciate any homeowner who gets their property ready for safe roofing work, though don't feel obligated to start early. We'll happily guide you through the process of moving cars out of the driveway and clearing the space around the rooftop.
For those of you who want to get a head start, here's a helpful guide to prepare for any residential roof repair or replacement of your Dearborn MI home.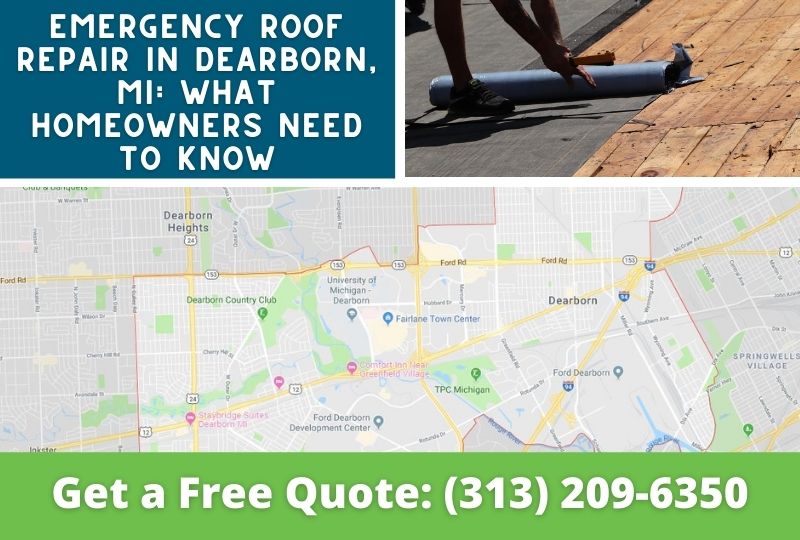 Clear the Driveway and Front Path
Roofers need to be able to move around the roof and yard safely.  Your driveway may also be needed to hold the assigned trash container that will catch all (or most) of the shingle debris and packaging discarded during roofing work.
Depending on the time of year, you may need to clear your driveway and front walk. Sweep the walk of any fallen leaves or grass clippings during the warmer months. If you need roofing repairs in the winter, shovel your drive and walk and salt both for safety before your roofers arrive. As long as the main paths are clear, your roofers will be able to move around freely as they set up for your repair or replacement roof work.
Put Patio Furniture and OutdoorToys Away
Consider the perimeter of your roof and the outdoor space below. When roofing work is done, some amount of debris can fly off the side of the roof, often picked up by the wind accidentally. We don't want any debris hitting something important, so please move your patio furniture and other items away from the eaves of your home.
Now is a good time to put any tables, chairs, birdbaths, and outdoor children's toys into the garage. If you have a covered porch, the space under that roof is safe as well. You can also pull your lawn furniture further into the yard toward the fences to clear the space around your roof edge. This way, any roofing debris will fall harmlessly into a zone that your roofers can clean up afterward.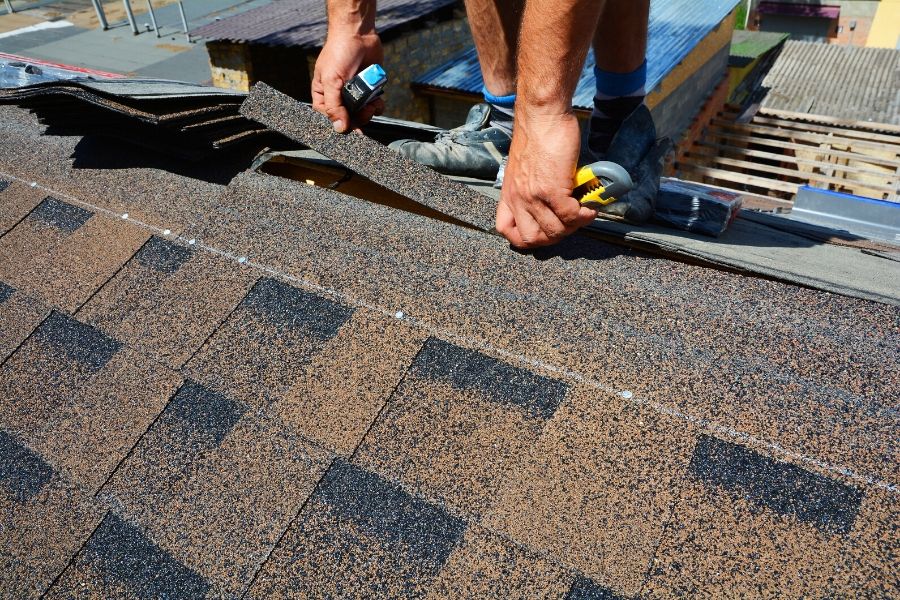 Cover Plants and Stationary Features
Unless your plants are potted (and lightweight) you probably can't move them out of the falling debris zone. Fortunately, plants are resilliant and can be protected. Cover all your bushes, trees, and flower beds near the roof perimeter in their winter canvas. Mark any particularly delicate beds or bushes with vivid tape on the covers, then let your roofing team leader know to watch out for the mark.
Roofers will do their best to keep all debris in approved safe fall-zones. This will include protecting your more delicate plants from falling debris by avoiding these areas during work and stopping roll-aways from going off the wrong edge. The more visible your markers, the better.
Move Cars Out of the Driveway
Just as you moved your patio furniture, you will also want to move any household vehicles out of the driveway. Cars can go into the garage for safety or they can be pulled out to the curbside. Your Dearborn home's roof repair or replacement will create a field of debris around the home perimeter.
The driveway will need to be clear for two reasons. First, you don't want your car to be rained on with roofing nails and shards of removed roof shingle. Your vehicle should be protected from roofing debris and the best way to do that is to keep vehicles out of the driveway and away from the eaves.
Second, roofers often use the driveway to place the roofing disposal container. Often a clean portable dumpster, the disposal container is there to catch roofing debris. Roofers will throw the largest pieces and collected stacks of roofing debris directly into the container. Then any escaped debris will be gathered
Empty or Arrange the Attic
Roofers will likely need to access your attic to inspect the situation and possibly to enact further repairs. This means your attic is suddenly a utility space when it may have previously been used for storage. Ideally, you can empty your attic and give roofers a clear space that's safe to get dirty. If that's not possible, tidy the place instead. Stack boxes and stored items and leave plenty of walkways for technicians to safely make their way through or across the attic. Make sure nothing is about to topple over and arrange the attic so that you are comfortable with technicians moving through as needed.
Anything highly valuable or delicate stored in the attic should be brought down and stored somewhere safe on the first or second floor.
Dust-Cover All Below-Roof Rooms
Roofing work tends to shake the timbers as roofing shingles are removed and new shingles are hammered in. This can shake dust down from the underside of the roof onto everything in your attic. Many Mighigan homes have occupied or regularly used rooms under the A-frame in attic space, so these rooms are also considered an attic for roof-work purposes.
Everywhere directly under the roof should be dust-covered. When the roof shakes from your Dearborn repair or replacement roofing work, you'll want those dust covers to catch anything that shakes down from the beams and ceiling boards.
Take Fragile Items off Walls and Shelves
If your Dearborn home needs roof replacement or more serious repairs, then the vibration from roof work can travel through the walls. This can cause more than just dust to fall. Shaking walls can mean shaking mounting hooks and strings of delicate artwork or hanging frames.
Before your roofers arrive, we strongly advise that you take down all your hanging art from the walls, pad it, and put it somewhere safe until repairs are complete. Do the same for delicate breakable items on shelves that may shake, fall, and crack or shatter.
You do not need to fully pack your breakables as if you were moving. However, we do suggest that you loosely pad each breakable item and set them into a box that protects them. You can even set them out on towels on the kitchen table, as long as nothing breakable is resting against a wall or a wall-set shelf.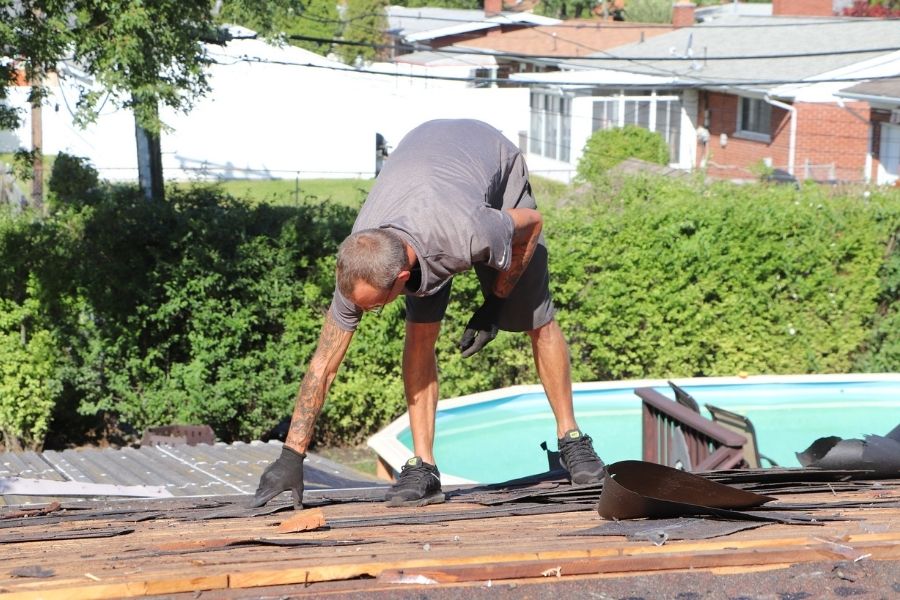 Choose an Outdoor-Accessible Outlet
For modern roofing, your Dearborn roofing contractors will need access to one power outlet to run their electronic tools.  They can manage power on the rooftop but one extension cord needs to plug somewhere into the home's electrical system. You get to choose where this extension cord connects. Many homes have an outdoor outlet protected by a gasket-sealed cover. If you're not sure, take a minute to walk around the outside of your home. Look for anything that resembles a power box with a cover, which may require a screwdriver or a very firm thumb to open.
If you find an outdoor outlet, test it to ensure it works. If the outdoor outlet works, then your roofers are in luck.
If you don't have an available or working outdoor outlet, you can improvise. Choose one outlet near a door or window that can be connected to for the duration of the roof repair or replacement work. Insulate the space to minimize air loss if necessary.
Mow the Lawn
Wrapping up your home preparations, one incredibly useful thing you can do before roofers arrive is to mow your lawn short. Why, you might ask? Much of the debris that falls accidentally during your Dearborn roof repair or replacement is very small. Roofing nails, small pieces of packaging, and bits of roof shingle can disappear into a fluffy lawn.
However, as courteous roofers, we want to leave your lawn safe and not full of roofing nails, so we try to scour the debris fall-zone and clean up after a service. Short grass halves the challenge. By mowing the lawn before a roofing project, you can ensure that your yard will be cleaner and safer when the service is done.
Optional:  Share Hot Coffee or Iced Tea
Last but certainly not least, we have met many friendly Dearborn homeowners who want to offer some hospitality.  Rest assured, we come prepared with water and make our own arrangements for lunch. But if you want to bring around a carafe of hot coffee (or cocoa) in the winter or a pitcher of iced tea in the summer, we'll always appreciate it and say thank-you.
Does your Dearborn, MI home need roof repair or replacement? Contact us today by calling (313) 209-6350 to schedule your service and we'll help you make sure everything is ready on the day of your roofing work. We look forward to hearing from you!