There is a big difference between needing a roof repair – even if major – and needing to replace your entire roof. Sometimes a leak may not warrant an entire replacement. You may sometimes be able to conduct minor to major repairs over the years without completely replacing the roof, buying you time and saving you money. Hiring a roofer in Ypsilanti Michigan to repair your roof or even replace your roof when there is problems can help protect your home from damages that can be incurred from a roof leak due to water damage.
How to Tell if you Need a New Roof in Ypsilanti Michigan
It's easy to determine you need a professional roofer to repair your home's roof when there is a roof leak present. However, once a roof leak starts it can already damage areas of your home with water. Being able to identify a problem before a roof leak can help to prevent that damage from occurring to begin with. We don't recommend going onto your roof yourself as this is dangerous and you may even damage the roof even more. Always use a fully licensed and insured roofing contractor for any roof repairs, inspection, and new roof installation on your home.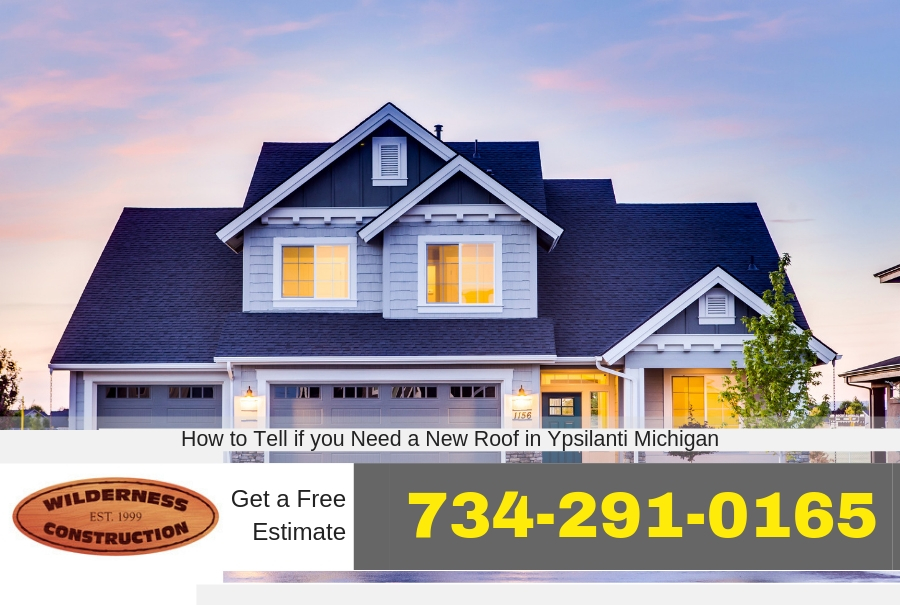 Here are some things to consider when thinking about whether or not to replace your roof.
Age of Roof – If your roof is approaching 20-25 years old, you may need to consider a new roof. It is common for a typical roof to have this lifespan, but some may have withstood more damages and wear than others. Also, if you have had repairs on the roof through the years, the overall life expectancy could be altered. Repairs could have worn at the existing original roof or could have prolonged the life. You need to consider all the factors here.
Roof Valleys – If the dips in the architecture of your roof are missing shingles or have damaged shingles, it could be a good idea to replace your roof. These are the significantly important portions of your roof, making it important to keep them in tip top shape year round. If these areas hold damage, they risk you becoming more susceptible to leaks and further damages.
Missing Shingles – Anytime there are missing shingles on your roof, you need to assess whether they can be replaced individually or if your roof is failing, causing the shingles to fall off.
Curling or Buckling Shingles – If you were to look at your roof where the most direct sunlight hits, along the slopes, you may notice that some shingles are curling or losing their texture. If this is the case, they are likely past their limit. You would want to consider consulting a professional to be sure the roof isn't failing and to discuss what needs to be done.
Shingle Debris – If you find that you have debris such as granules in your gutters, you may need a new roof. Shingles tend to lose those granules towards then end of their expected lifespan, meaning that they need replacement. Additionally, if you notice a difference in color or darkening in some areas, this is a sign that the granules have been lost on the shingles as well.
Chimney Flashing – If roof cement or tar is used in this area, you should consider having this replaced with water fighting material, such as a metal flashing system. A metal flashing is watertight and fits snugly to the chimney, making this a much more long term installation.
Sunlight Leaks – If you notice that there is a softening of the roof when on it, you need to check the attic to see if you are able to see sunlight through cracks and gaps in the roof from the inside. If this is the case, you will need a roof replacement as there is definite roof failure occurring. Another way to determine this is to check the installation for moisture in the attic.
Call Ypsilanti Roofing Company for a Roof Inspection
In order to fully determine what condition your home's roof is in it's best to get a full roof inspection from a licensed roofing contractor. If you're concerned about your home's roof be sure to call Ypsilanti Roofing Company today at 734-291-0165 to schedule your roof inspection.