From time to time your roof may have problems. This is especially true if the roof you have on your home has some age on it or has not been maintained very well. Regular roof inspections can help solve some of the problems that many roofs may face however, there still may be roof leaks and problems that arise from time to time. When that roof leak occurs it's important to have a qualified roofing contractor repair the roof. The best roofing contractor in Farmington Michigan is Twelve Oaks Roofing. They have a variety of roofing services they offer and they service almost any type of roofing material or systems. They also offer roofing services to both residential customers as well as commercial customers. Read more of this article to learn more about Twelve Oaks Roofing and some of their services.
Need a Roofing Contractor in Farmington? Use Twelve Oaks Roofing
One thing that many people don't ever consider to be a problem until it starts leaking is the roof on their homes. Each and every day your roof is protecting your home from the heat of the sun, wet rain and snow, and the wind from storms. Sometimes however, these things can get the best of the roof and it starts to fail. When that happens it's important to get a roofing contractor out to your home as quickly as possible to ensure no further damage occurs. When a roof leak starts it can also damage areas inside the home including walls, ceilings, and floors. Not to mention a host of other things including electronics and furniture. That's why when you have a roofing problem and need a roofing contractor in Farmington Michigan it's best to call Twelve Oaks Roofing service. They have years of experience and are ready to serve you and offer their services.
Decades of Roofing Experience Available at Twelve Oaks Roofing
Twelve Oaks Roofing has many roofing technicians with decades of experience. As a company however, the 21 years plus they have been in business really gives them loads of credibility. You don't stay in business in the Farmington community that long without giving excellent service including great customer service as well. At Twelve Oaks Roofing our roofing technicians go above and beyond to help the customer get exactly what they need and more. It's this attitude that has keep our customer retention rate so high and why they are still in business today after 20 plus years.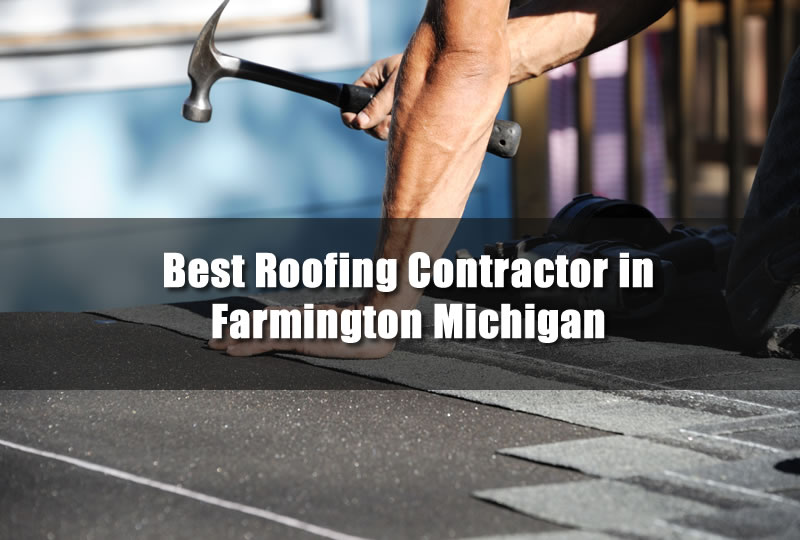 Satisfaction Guaranteed on All Roofing Services
Any of the roofing projects that are done by Twelve Oaks Roofing are done to complete satisfaction of the customer as well. Because Twelve Oaks Roofing offers a full satisfaction guarantee on all it roofing services including roof repair and replacement you can be sure you'll receive all you wanted and more. This kind of commitment to customer service is why so many people trust and call on Twelve Oaks Roofing whenever they need roof repairs or replacement in the Farmington Michigan area. They are the number 1 roofing contractor in Farmington and likely will remain with this satisfaction guarantee that they offer.
Many Roofing Services Offered by Twelve Oaks Roofing
With so many roofing materials and roofing systems in use today it's difficult to find a roofing contractor in Farmington that covers them all. At Twelve Oaks Roofing they offer a variety of services including repair and replacement on the following roof types:
Residential Roofs
Commercial Roofs
Flat Roofs including metal, rubber, and tar and gravel roofs
Shingle Roofs
Metal Roofs
As you can see their services cover almost any roofing materials that are used today. And with service covering both residential and commercial roofing materials they can handle almost any roof that is currently installed in the Farmington Michigan area.
When you need a new roof installed Twelve Oaks Roofing also offers different methods of replacement. Both re-roofing and complete tear off and replacement of asphalt shingle roofs are available. In order to learn more about Twelve Oaks Roofing and why we think they are the best roofing contractor in Farmington Michigan be sure to contact them and get a free roofing quote. You can give them a call at (248) 525-6950 to learn more.