Your water heater is a crucial part of your home. It is what provides you and your family with hot showers, clean laundry, and warm water to wash dishes. Without a properly maintained water heater, you risk a malfunctioning unit that turns your showers cold. Water heaters can last on average around 11 years with the proper maintenance. If you don't take care of it, your water heater won't last that long and you'll be left in the cold. Not properly taking care of your water heater could mean lots of water heater repair in Downriver Michigan. Here are some tips to keep your water heater performing for many years to come.
Proper Water Heater Maintenance in Downriver Michigan
It's really simple to do your part in the maintenance of your water heater. Just regularly doing three simple steps can ensure your water heater lasts at least 11 years. If you notice things wrong with your water heater while you conduct this regular maintenance, you can call in a professional to help so that you can address problems before you have to fully replace your water heater in your home.
There are a few things you'll need to consider when doing your own water heater maintenance. While most water heaters can be accessed easily there are some cases where the water heater is in a particular spot in the home. This can be located in the attic or in a closet somewhere which can make servicing the water heater more of a task. Keep in mind that if something goes wrong you may end up with a leak which can damage your home if you don't properly do these procedures. If you're unsure in any way be sure to call a local plumber in Downriver Michigan to service the water heater instead. As with any home improvement project it's always best to have a licensed professional handle it for you.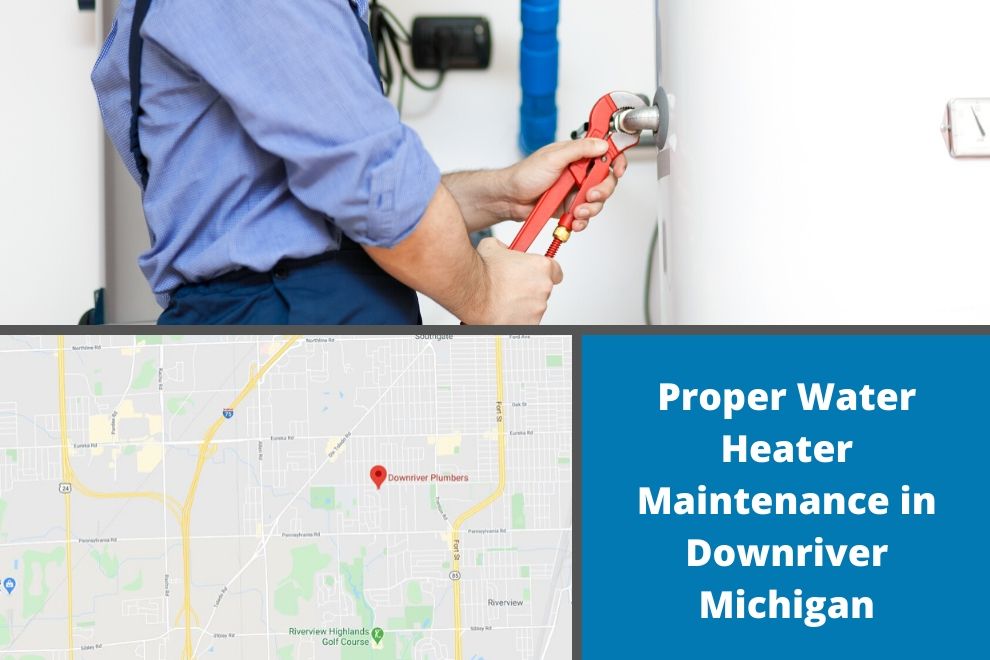 Check Temperatures
You should check the temperature of your water heater as the manufacturer settings are often too high for the needs of your home. Manufacturers typically set water heaters at 140 degrees Fahrenheit, which is much hotter than what you need on a daily basis. If your water heater is too hot, you increase the risk of scalding and it can lead to the faster buildup of minerals and corrosion throughout your pipes. You can set your water heater to 120 degrees Fahrenheit by recommended settings and you can help to significantly reduce the risk of damage to your tank and you can save on issues that could have occurred.
Drain Regularly
Your water heater should fully drained and flushed a few times a year. You should empty the tank to about one-quarter of the volume to refresh the tank. To do this, you just turn off the cold water supply and hook a water hose to the drain valve. Let the water run out until its clear. This removes the sediment in the tank and can help to prolong the lifespan by preserving the efficiency of heating that the water heater can do.
Test Pressure Valves
You should regularly test your pressure relief valve on your water heater to make sure it is working properly. If the water heater is in good working order, it should release a short burst of hot water into the drainpipe once you raise and lower the test lever. You should do this regularly to not only test the function and pressure, but to clear out debris as well. If you find that big burst of hot water isn't coming out every time, you may want to consult with a professional plumber to check out the water heater.
If at any point in your regular maintenance routine you find that your water heater isn't acting normally, you should contact your plumber to check it out. Taking these steps to keep your water heater in working order is important in maintaining the health of the unit, but also in finding things that are wrong early on so that you can get them fixed promptly.
As we mentioned above, if you are unsure about your water heater it's best to call a licensed professional plumber. One of the best is Downriver Plumbers at 734-548-9925. They offer full plumbing service in the Downriver Michigan area which includes water heater repair and replacement. Call them today to schedule your water heater maintenance.