Out of all inclement weather, hail is by far one of the most destructive weather conditions when it comes to your roof. After all, hail could grow to the size of a baseball, which could cause serious damage to your roof as it plummets from the sky. If you live in an area that experiences hail at least once a year, such as Michigan, it's important to know what you should do if you have hail damage on your roof. Here are some tips and steps you should take when you have hail damage on your roofing in Plymouth Michigan to ensure your home remains protected.
Steps to Take When You Have Hail Damage on Your Roof in Plymouth Michigan
As a homeowner, it's important to have a roofer you can go to with all your roofing needs. Additionally, having a roofer that offers emergency services is extremely beneficial, especially during inclement weather. After all, you never know when you will need to repair your roof. In the event you need an emergency roof repair, finding a new roofer is the last thing you want to do. Some roofing contractors that offer emergency services will have a procedure set up to stop water from coming in your home. This is usually done by placing plastic or tarps over the damaged area. Then, once the weather clears and the damage can be better assed a more permanent roof repair is done.
Hiring a reputable roofer in Plymouth Michigan is great preparation for fixing hail damage to roof in some cases. Prior to an expected hail storm, your roofer will be able to inspect your roof and give you tips on what you can do to ensure as little damage as possible happens, as well as possible damage (if any) that you can expect.
Not only will your roofer be able to help you feel more comfortable and prepared for the storm, but you will ultimately have peace of mind knowing that regardless of the damage the hail causes, you have a trustworthy roofer that will help you quickly fix it.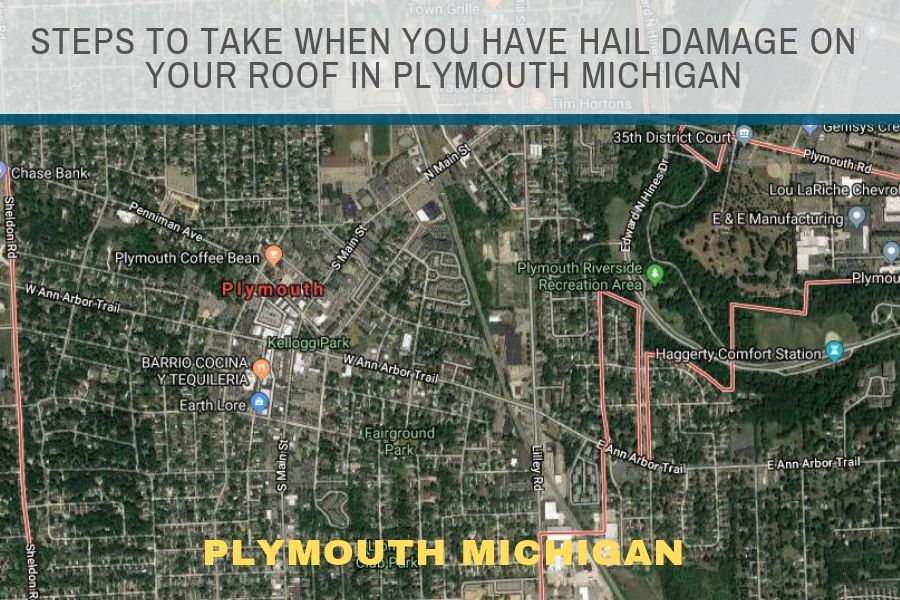 Wait Until the Storm Ends
Most homeowners are confused about whether they should call their roofer during a storm or after. If you experience hail damage to roof during a storm, calling your roofer in the middle of a storm might be tempting. In reality, it's advised that you wait until the storm ends. In most cases, the roofer will need to consider the safety of the project. While heavy rain, high winds, lightening, and such are still active, the roofer may want to wait until the conditions are safer before assessing the roof.
You should wait to call your roofer until the end of the storm for a few reasons. Firstly, there's a chance you might not have experienced the worst of the storm yet. In other words, there's a possibility more damage might occur to your roof. Additionally, it's unsafe to repair a roof during a storm. So even if you contact your roofer, they won't be able to inspect your roof or do any repairs until the storm is over.
Take Preventative Measures During the Storm
If you notice hail damage to roof during a storm, it's important to take preventative measures while you're waiting to contact your roofer. If your roof is leaking, make sure to move any furniture and prized possessions out of the area of the leak. Additionally, you should try to contain the leak with a bucket or other object that can collect all of the water.
If any roof damage poses a risk to you and your family, consider settling in an area of your home that is unaffected or seeking shelter elsewhere, such as a friend's house or hotel.
Call Your Roofer ASAP
Once the storm is over, contact your roofer in Plymouth Michigan as soon as possible. Hail damage to roof can be severe. The longer you wait to fix your roof, the worse the damage will get, which will ultimately cause the repairs to take longer and be more costly. So, don't postpone fixing the damage and call your roofer once the weather clears up. One of the best roofers is Home Pros Plymouth. They offer emergency roof repairs and service. Plus, you can get a free quote simply by calling 734-548-9911.