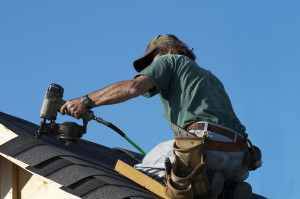 With all the hustle and bustle of daily life, it's not often that we take a close look at our roof. In fact, the only reason it might get our attention at all is when something goes wrong such as leaks or damaged/missing shingles. How do you know if it's time to take action and would you know whether to repair or replace your roof?
The first question you need to ask yourself is when the last time a new roof was installed. If it's been two decades or more, it's definitely time to have someone look at it and provide you with an estimate to replace it. If you live in an area with harsh winters, that time frame may be even shorter as snow and hail cut cut the lifespan of a roof.
Shingles that are buckled and curled may also be a warning sign of a roof in danger. Shingles should flat against the roof and if they are not, they are very likely past their life expectancy. There is a possibility that roof could be defective, which should be left up to an experienced contractor to determine.
Homeowners can also spot trouble issues without climbing up to the top of their home. The National Roofing Contractors Association (NRCA) recommends that homeowners conduct their own inspection once per year or every other year. One way to do this is to head to the attic. If you notice light coming in through the attic ceiling or water making its way in, it's time to call someone immediately.
If your home is in need of a new roof, contact the professionals at Downriver Roofers. This fully licensed company has been in business for more than two decades and proudly services the entire Downriver and surrounding area. For a free roof inspection, call (734) 548-991 or visit downriverroofers.com.