Getting a new roof installed on your home can be quite an undertaking. Not only can it disrupt your lives for a short time but if it's not done correctly it can put everything in your home at risk. Even your home itself in more extreme cases. That's why choosing the right roofing contractor in Plymouth Michigan is so important. To ensure you get the proper roofing materials installed correctly and that it will last a long time. Here are some of the best questions you should ask your roofer when getting a new roof installed on your home.
Top Questions to Ask When Getting a New Roof in Plymouth Michigan
A new roof installed on your home can cost thousands of dollars and if it's not done correctly, you may end up installing a new roof again in just a short time. That's why it crucial to understand how a roofer installs the roof and what your concerns should be about the roof installation. Since roofing lasts a long time it may be years or even decades before the roof needs to be replaced again. Here are some of the top questions you should ask before you hire a roofing contractor to install the roof on your home: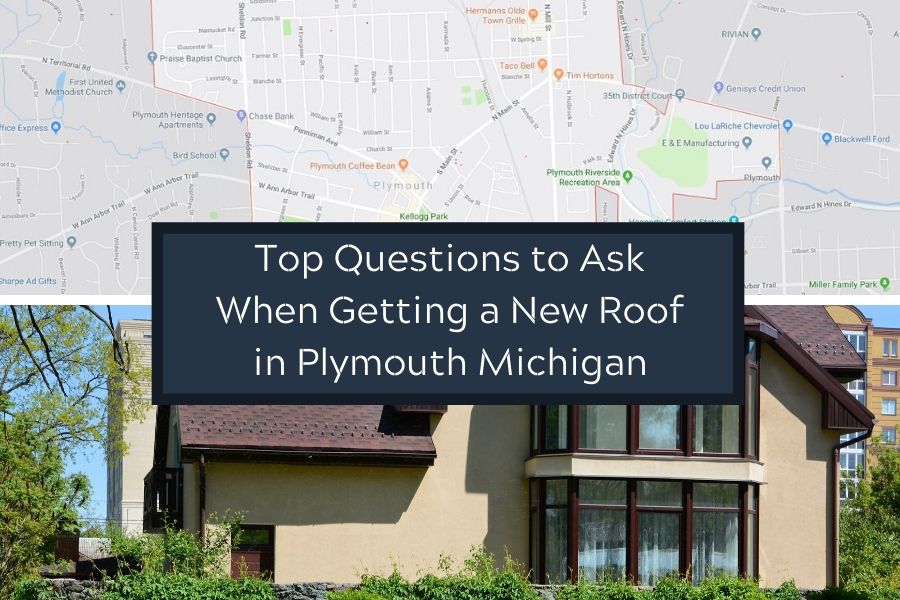 Are You Fully Licensed and Insured?
If the roofing contractor is not fully licensed and insured it's best to avoid them. Even if they are exptremely cheap, just remember you get what you pay for. If the contractor isn't properly licensed they may not install the roof correctly and you may end up just having to do the same project again in a short time. Not only that but your roof may not be warrantied if it's not properly installed by licensed professionals.
They should also carry insurance as well. Accidents do sometimes happen and you'll want to know they are covered in case they do. If not, the liability may fall to you and your home insurance to cover it.
How Long Can I Expect My New Roof to Last?
Roofing materials have different levels of quality. Lower quality materials which are less expensive only last about 10 to 15 years whereas higher quality materials that are more expensive can last 35 years or more. It's important to consider the warranty on the roofing materials as this can help you determine just how long the roofing materials should last.
Can You Show Me Different Styles and Options?
Some roofing contractors will only install a specific style of roofing. While this can be great if that is the style you're looking for, it doesn't leave many options open for other roofing styles. Make sure to look at several different options when it comes to your roof. Each option will likely be different on pricing as well so make sure to ask about how much each product would be for your specific needs.
Will the Old Roof Be Removed?
There are two methods for installing a new roof on a home. The first method is called re-roofing and it basically means the old roof is left in place and a new layer of roofing is placed on top of the home's old roof. This can save money on labor and other costs associated with installing a new roof. However, it's usually a good idea to have the old roof removed as there may be underlying problems that need to be repaired. Both methods can leave you with a new roof but it's a good idea to know which option a contractor is considering for your roof.
What is the Time Frame for the Entire Project?
Make sure the time frame for the project doesn't interfere with other activities you have at your home. Most reputable roofing contractors will install your new roof in just a day or two but there are some that will "start and dart" which means they start the project only to come back in several weeks to work again. This helps them lock in many customers but it puts your home in a lot of risk. Make sure you ask about the time frame and also insure it's listed in the roof contract for the project.
Do You Offer Free Estimates?
Getting a free estimate on your home's roof installation can help you better budget the project. Be sure to call Home Pros Plymouth today to get a free quote on your roofing project in Plymouth Michigan. They are fully licensed and insured! Call 734-548-9911 for more details.