Windows provide a panoramic perspective of the world. When you look closer, however, you'll notice that different window layouts have varied benefits and drawbacks. There's a lot to consider when choosing window types, from their shape to the amount of ventilation they provide. Knowing which window is right for your home can make a huge difference in curb appeal and how well the windows perform. Here is some tips you should consider when getting replacement windows in Plymouth Michigan for your home.
Types of Vinyl Replacement Windows in Plymouth Michigan You Should Consider
Natural light is a common selling point for homes, so choosing the right windows may pay off big for instance vinyl replacement windows . Choose the types of windows that match your lighting and function, whether you're building or remodeling.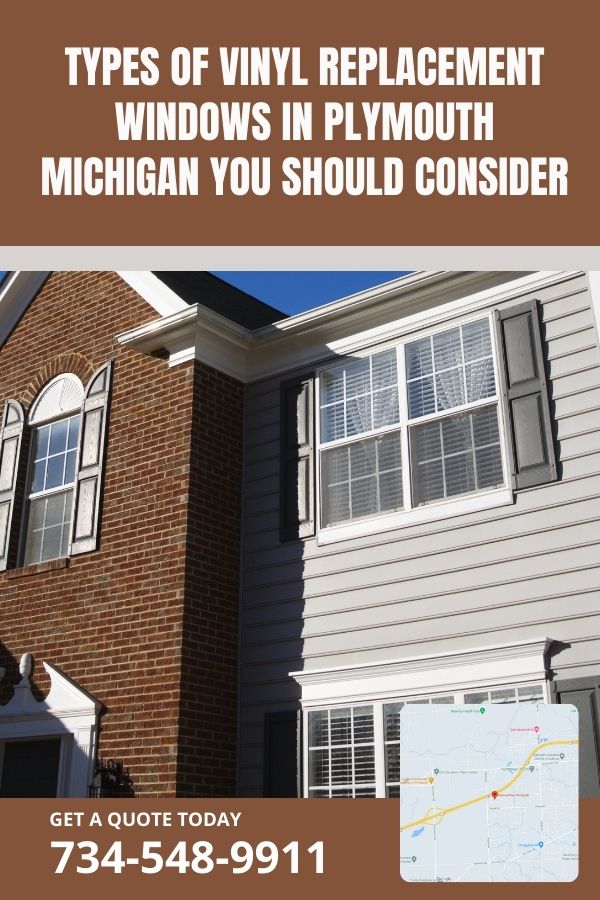 1. CASEMENT WINDOWS
Casement windows, sometimes known as crank windows because of the way they open, swing from a hinge like a door. These windows are often weathertight due to the thick seal around them. When needed, the swing function also provides for a large volume of airflow.
When installing casement windows, bear in mind the architecture of your home to guarantee that the open windows complement each other and the sides of the house. If you rely on window air conditioning, be aware that casement windows are not ideal for fastening the units.
2. DOUBLE-HUNG OR SINGLE-HUNG WINDOWS
Double-hung or single-hung windows open along a vertical track, which is the most common window design. The difference between these two types of windows is that single-hung windows only open from the bottom half, whereas double-hung windows open from both sides.
These traditional windows allow for optimum ventilation, cleaning access, and are less difficult to replace than more unusual window forms. If double- or single-hung windows are not properly maintained, they may not stay open as long as needed because they work against gravity.
3. PICTURE WINDOWS
Picture windows don't block the outside view because they're fixed and unmovable, which can add to the wow effect. What is the major flaw? With these windows, there is no breeze. The upkeep is simple and the seal is weathertight because there are no opening devices.
On the other hand, as compared to solid walls, picture windows aren't exactly energy efficient. During the cooler months, heat from inside the house may escape, whereas, in the warmer months, sunshine streaming through the picture window may overheat the interior space.
4. BAY WINDOWS
The word "bay windows" refers to windows that are clustered together and extend from the house, and it is both useful and attractive. This can be used to make a bay or shelf on the interior. In a bay window group, the individual windows are at right angles to each other.
Bow windows are similar to casement windows, except they're curved and don't have any angles between them. The center window in a bay window is typically a fixed picture window, with the two flanking windows being casement, single- or double-hung windows.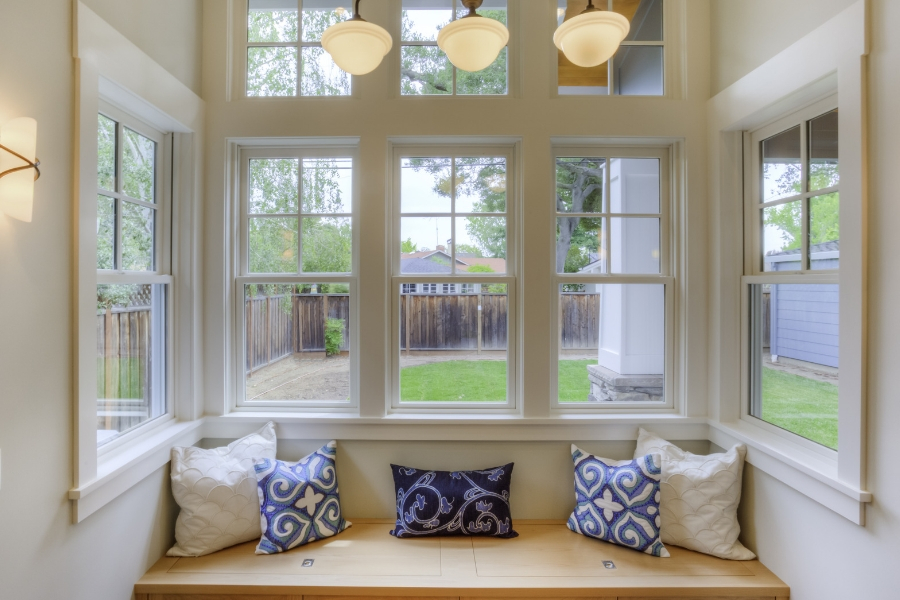 5. SLIDING WINDOWS
Sliding windows, like sliding glass doors, are a more typical alternative for horizontal window orientations. They work by sliding one portion over another. This can allow for a lot of airflows and decent sealing.
Sliders are commonly used for basement egress windows, but they may not have the elegant style that is desired in places where curb appeal is more important.
6. AWNING WINDOWS
The awning-like shelter provided by these windows gives them their name. If you like to keep your windows open when it rains, they're a good choice. Awning windows are used above, below, or to the side of picture windows and have hinges at the top.
Awning windows open from the top of the frame, as opposed to casement windows, which open vertically. When not in use, the crank mechanism provides a tight seal and is straightforward to use. They provide adequate ventilation when open.
7. DECORATIVE GLASS WINDOWS
Decorative glass windows come in a range of designs, from stained glass to glass blocks, and are often stationary. These windows can serve a dual purpose: they can add a lovely architectural element while also providing some privacy.
As a result, they're frequently spotted at front doors or in restrooms. If you desire an exterior view, ornamental glass windows are not the way to go, even though they provide natural light to the interior.
8. SKYLIGHTS
Skylights, which are constructed into the roof, are a terrific way to bring natural light into interior spaces. Fixed or vented skylights are available. They open with a hinge, just like a casement or awning window. Although you shouldn't expect a skylight to fully open, even a small amount of venting can help a place breathe better.
Get a Quote for New Windows in Your Home
Call the experts at Home Pros Plymouth today at 734-548-9911 to get a free quote on replacement windows for your home. They offer several different brands and can make your home look great with new windows. Call today for more details.