Many homes in the Plymouth Michigan area are decorated for Christmas and Halloween, but are left bare in between. Fall and early winter offers many great ways to get creative and make your home more aesthetically pleasing, without having to spend a lot of money. If you want to get into the seasonal spirit and celebrate fall, there are some great ways to do it and increase your curb appeal. We'll take a look at some projects for home improvement in Plymouth Michigan that you may want to consider to make the most of your home.
Ways To Increase The Curb Appeal of Your Plymouth Michigan Home
Many of the home improvement projects you can do to your home can increase it's value in some way. Remodeling a bathroom in your home can make it more functional and maybe bring the appearance of the bathroom into a more modern space. And while this can certainly add value to your home it likely won't do much for the curb appeal of the home. To increase the curb appeal of your home you'll need to do some sort of home improvement project on the exterior of the home. Here are some of those home improvement projects that can be done to increase the curb appeal of your home and ultimately raise the value of your home: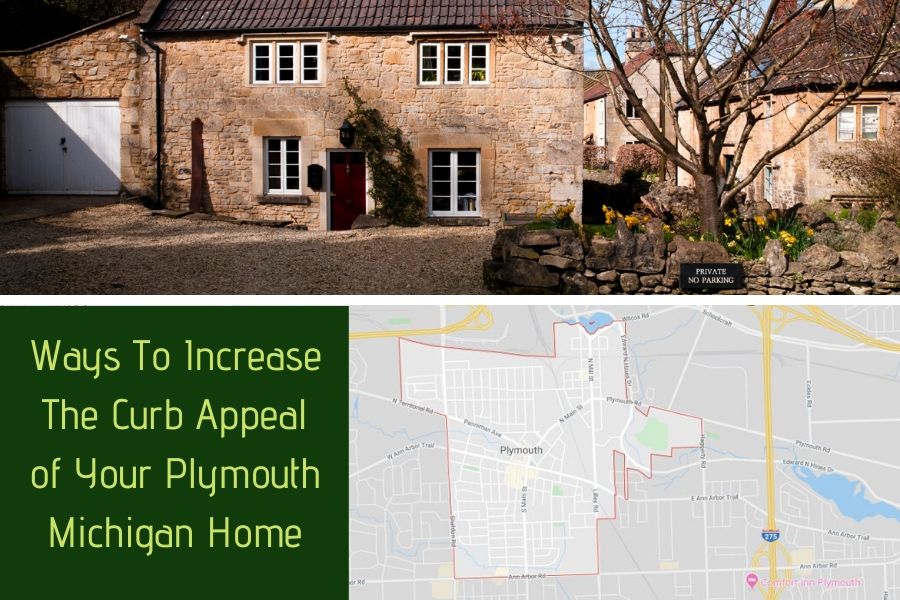 Landscaping
For many, fall means changing leaves and lots of color, but as the leaves fall, they can become messy looking and draw more attention to the barren tree branches. This is why it is recommended that you rake them up or mulch them when mowing your lawn. You can get creative with what you do with the leaves, but should avoid leaving them as is. There are also flowers you can plant that will survive the fall weather. Consider adding some color with pansies, helenium, goldenrod, chrysanthemums, sedums and sweet alyssum.
Exterior and Patio Décor
There are plenty of décor options for fall that aren't necessarily for Halloween or Thanksgiving. Wreaths are a great way to spruce up your doorway any time of year. Seasonal wreaths highlight the colors and plants of that time of year. Fall wreaths typically tie in colorful leaves, wheat and burlap. You can also make your own and get plenty of other ideas on sites like Pinterest.
Pumpkins are a classic piece of décor, as are other types of gourds, and you can also add some sunflowers and haybales on your porch. The great part about these is that you can get fake plants and vegetables that you can use over and over again each year. Stick to browns, oranges, reds and yellows to match with the season.
Siding
If your siding is looking dull and drab, it can be a great idea to clean it up. Removing dirt, dust and mold can provide an instant facelift to your home and make it look much brighter and newer. Make sure you follow the directions for cleaning your type of siding, and only use cleaners that are safe on it. If your siding is getting old and damaged, it is also a great opportunity to replace your siding. Not only will it make your home look better, but will also better prepare your home for the cold weather to come.
Lighting and Lights Around Your Home
Lights aren't just for Christmas. As the days get shorter and it gets dark sooner, some extra lighting can be highly beneficial. Consider solar lanterns and lights along your driveway or walkway. You can also change the colors of your bulbs in porch lights to create a different colored glow when on.
Maintenance
To make sure your home looks its best, you need to keep up with maintenance. This is especially crucial during fall with falling leaves and weather quickly becoming colder. Some of the key things to keep up are clean gutters and trimmed trees. This will not only make your home look better, but also decrease the risk of roof damage. You should also perform any necessary repairs to your home, especially your roof before the snow hits.
Before you take on a home improvement project by yourself it's always best to first consult a contractor. A home improvement contractor can help you make the most of your home improvement project. Allow their experience and expertise to help guide you to make the most of your home. Call Home Pros Plymouth today at 734-548-9911 for a free quote on a home improvement project in Plymouth Michigan.