It's easy to feel overwhelmed when you suspect that you need an emergency roof repair in Downriver Michigan. After all, a roof is a crucial part of your home because it protects your family and home itself from weather, temperature, and other external factors that decrease a home's safety and functionality. That being said, continue reading to learn what you should do if you suspect your roof needs to be repaired.
What To Do If You Need An Emergency Roof Repair in Downriver Michigan
Many times the roof is the last thing we're thinking about when a major storm comes through the area. However, while you're safe inside the roof is taking the brunt of the damaging weather and winds. One of the biggest threats to a roof is weather and when it comes to strong winds, hail, and torrential rain it can cause problems on even the best roofs. Sometimes during these storms, things happen like falling tree branches or other problems which immediately cause a roof leak on your home. When this happens getting emergency roof repair on your home can help to cut down on the costs of the damages dramatically. Here are some tips to help and steps you should take if you find yourself needing emergency roof repair in Downriver Michigan: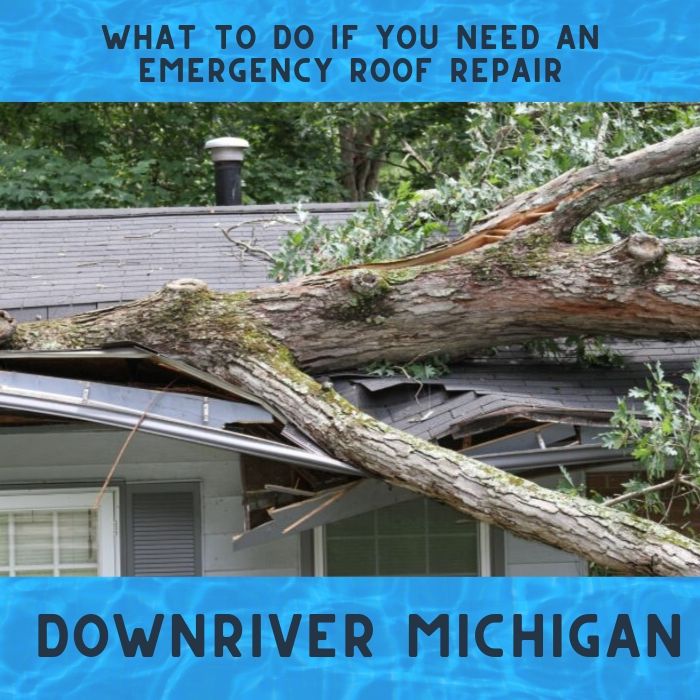 Identify Damage
Firstly, it's important to identify whether or not your roof is damaged. While the damage itself is an unfortunate situation, fortunately it's usually easy to identify the damage. Typically, roof damage occurs after inclement weather, such as heavy rain or snow. Roof damage caused by inclement weather usually appears as leaks and missing shingles.
Call A Repair Company
As soon as you identify your roof is damaged, it is important to consider calling a roof repair company. An emergency roof repair requires attention and skill that only a trained contractor can provide. It is very dangerous to attempt any type of roof repair yourself and should be avoided.
While it is crucial to call a roof repair company to fix the damage, it's also important to consider timing. For example, if your roof was damaged by a storm that isn't over yet, you should try to stick out the rest of the storm before calling a contractor. After all, calling a contractor in the middle of a storm will not only risk the contractor's safety, but it also increases the chances of having to hire a contractor for follow-up repairs.
Take Preventive Measures
As soon as you assess your roof is damaged, there are a few steps you should take to prepare for your emergency roof repair. Although your roofer will ensure your roof is adequately repaired as soon as possible, it is highly likely there will be at least a few hours in between the moment you identify your roof is damaged and when your roofer fixes your roof.
That being said, make sure you protect your family and home during this time. If your roof is leaking, you should consider moving any furniture and special items away from the leak area. Additionally, you should attempt to clean any puddles of water. Not only can stagnant water impact your home's foundation, but it can also lead to an insect infestation. Placing a bucket under the leak is a great way to control where the water goes. But if you do this, make sure you routinely empty out the bucket, so the risk of an insect infestation is lowered.
Don't Attempt To DIY
Regardless of how bad your roof damage is, do not attempt to fix it yourself. Even during a worst-case scenario when it is unsafe to stay in your home because of your roof damage, you should stay somewhere else until you can hire an expert roofer instead of attempting to repair your roof by yourself.
Roof damages can be extremely serious and difficult to fix. Additionally, fixing a roof can be dangerous. That being said, leave your emergency roof repair to an expert. Not only will an expert roofer be able to complete the repair safely and in a timely manner, but you will also save money by hiring a roofer because you won't have to pay for equipment.
One of the best roofing contractors in Downriver Michigan is Downriver Roofers and they offer emergency roof repairs and many other roofing services. Call them today at 734-548-9919 if you need any type of roofing service on your home.