If you are looking to replace the windows in your Downriver Michigan home there are a wide variety of windows to choose from. One type of window that is often overlooked is a casement windows in Downriver Michigan. While they are not as popular as other types of windows, there are many benefits to casement windows that can make them the perfect option for you. Having a windows contractor install a new casement window in your home can not only boost your home's value but it can make your home more functional as well. There are other advantages to using casement windows in your home which we'll go over in this post.
Why You Should Consider Casement Windows in Downriver Michigan For Your Home
While a casement window is a great way to make your home more functional and boost it's value it will only do so if they are installed correctly. Casement windows which are improperly installed can reduce your home's energy efficiency. Improper installation of a casement window can even jeopardize your family's safety in case of an emergency. Always use a fully licensed and insured windows installer in Downriver Michigan such as All Point Construction to have any type of home windows installed. All Point Construction offers free estimates on window installation projects in Downriver Michigan. Call today to get more details at 734-407-7110.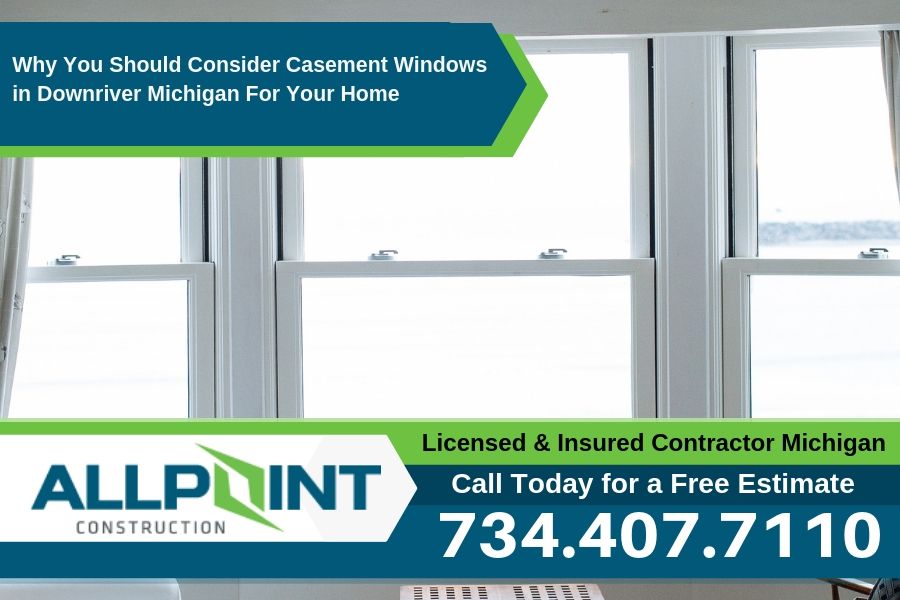 Easy To Use
Casement windows are designed with a hinge on one of the vertical sides of the pane to allow it to swing open. They come with a crank to allow you to easily open and close your windows without any unnecessary strain. They are a flat pane of glass that can be double or triple panes and fitted with any other energy efficient treatments. Casement windows also open horizontally instead of vertically to make them easier to crank without having to worry about the additional weight of multiple panes. This makes casement windows easy for both able bodied and those who need help to have control over their windows.
Unobstructed Views
Because a casement window opens horizontally you do not need to worry about the grid lines that occur on double hung windows. They also won't have rain hitting and pouring off the pane like you would on vertically opening crank windows.
Controlled Ventilation
Casement windows allow you to fully control how much air you want to flow through your home. This can mean opening it a small amount, or opening it all the way to allow for the greatest ventilation. This is important because many other windows do not. Windows like bay or corner windows do not open at all and are purely decorative, allowing for no air flow. Double hung windows and sliding glass doors only allow you to open the window halfway. Double hung windows can also be harder to control how much air flow is coming in because the weight of the window can cause it to slide down more than you want.
Casement windows also provide you with the ability to harness side breezes. The pane captures the airflow and allows you to take in the breeze that would otherwise go right by and be lost. Because the casement window allows you to choose the angle of the opening of your window you can also move it to the optimum position for the greatest air intake.
Added Security
If you are worried about break ins, or just want some added peace of mind, casement windows offer greater security than other types of windows. Unlike double hung windows that can be pried opened with a crowbar, casement windows have hooks embedded in the frame to prevent forced entry. Casement windows are completely sealed when closed so there are no weak points and the interior lock holds that seal via the hooks in the frame to make it nearly impossible to break in.
Weatherproof
Because casement windows have a superior seal, they not only prevent intruders, but moisture and pests from getting in. The one solid pane window, rather than the two like a double hung window, means there are no gaps between the window for moisture to get in. This is also extremely helpful for your energy bills because it allows you to prevent leaks and provide greater separation between the interior and exterior temperatures. This means lower heating and cooling costs every month.