If you have looking into doing improvements on your home, you more than likely have seen the words "replacement windows" popping up. Getting new replacement windows for your Brownstown Michigan home seems to be one of the most common and recommended projects for homeowners to take on. But what do you get out of new replacement windows that makes this home improvement project so popular? We'll look at some of the key benefits you will enjoy when you get replacement windows installed in your home.
Will Replacement Windows in Brownstown Michigan Help You Save Money?
A lot of homeowners don't want to take on a home improvement project such as getting replacement windows because they think the windows they currently have are performing well. However, a window doesn't have to be broken in order to need to be replaced. As technology advances and better construction of windows occur seemingly year to year getting new replacement windows which are much better is usually the case. In fact, the benefits you may get from new replacement windows can help to pay for themselves quickly. Since windows will be more energy-efficient they can save money for years to come on energy costs. Not only that but the replacement windows you have installed in your home can increase the curb appeal as well as the overall value of your home. Here are some of the advantages of getting replacement windows in your home: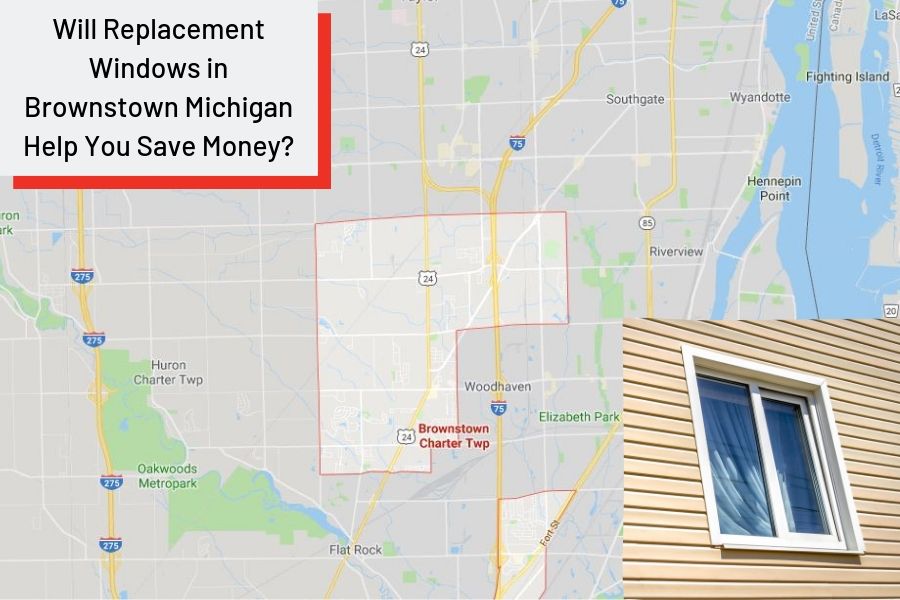 What Are Replacement Windows?
As the windows in your home age and are exposed to the elements, they become weaker and damaged. Window frames can warp and rot, and you can even see mold growth. But perhaps the biggest problem with older windows, they cannot properly separate the interior and exterior of your home. That means it is easy for air to pass in and out.
Replacement windows remove the old ones, and replace them with new, more efficient options. Because of new advances in materials and designs, you can gain more durable windows that require less maintenance. They also can be made more energy efficient by choosing multi-pane glass and coatings to help keep your home the temperature you want.
Why You Should Replace Your Windows
New windows, even if they are the most basic model, still offer you great improvement over older windows. You can increase the insulation around your window to make it easier to regulate temperature, and the new seal will prevent drafts. They also provide more security because of the new materials and locks, and greater soundproofing against outside noise.
If you choose to spend the extra money on double, or even triple-pane windows, gas fillers, energy-efficient coatings, and any other upgrades, this will help you save money on monthly energy bills. On average, those with energy-efficient windows see a decrease of 19 percent on energy bills in the summer. This savings goes up to 24 percent during the winter. You also get a huge return on your investment, or ROI, of around 70 to 80 percent.
In addition to saving you money, new windows can also make you money as well. Replacement windows come in a wide variety of sizes, shapes and styles, making it easy to find the perfect windows for your home. They can greatly improve your home's overall aesthetic and increase your curb appeal. This, paired with the efficiency, easily raises your home's overall value. Because replacement windows are so popular and provide such savings, you can also ask much more for your home if you choose to sell.
Don't Forget!
It is important to remember that these savings and benefits only really come when you replace all the windows in your home. If you only replace a few windows it can show little difference in your energy bills. It can also mean you get a much smaller return on your investment.
While it is a costly investment upfront, by replacing all your windows at the same time, or very close together, you will be able to see savings much sooner. If you're considering replacing a few or all of your home windows with newer replacement windows be sure to call All Point Construction at 734-407-7110. They are a fully licensed and insured home improvement contractor that offers service in Brownstown Michigan. They also offer free, no-obligation consultations on replacement windows projects. Call today for a free quote!